Guatemala declares emergency after mine protests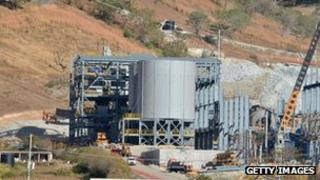 The Guatemalan government has declared a state of emergency in four areas after clashes between police and anti-mining protesters in the south-east of the country.
The interior ministry banned public gatherings and sent troops to four towns near a controversial silver mine.
Residents fear the Canadian-owned mine will drain their water supplies.
Protests have turned increasingly violent after it gained an operating permit in April.
One police officer was shot dead on Monday, according to local media, and six protesters were reportedly wounded by gunfire from security guards a day earlier.
In another confrontation, protesters captured 23 police officers who were later freed, according to La Hora newspaper.
The owner of the Escobal mine, British Columbia-based Tahoe Resources, said protesters armed with machetes "turned hostile", and security guards fired tear gas and rubber bullets in response.
It said complaints that the mine could affect the springs were "totally unfounded".
The mine, which is not yet operating, is in the district of San Rafael Las Flores, about about 70km (40 miles) east of Guatemala City.
The government said on Thursday it was outlawing gatherings in the towns of Jalapa and Mataquescuinlta, and the areas of Casillas and San Rafael Las Flores.
A decree allows them temporarily to make detentions, conduct searches and question suspects outside the normal legal framework.
Two security guards were reportedly killed during a protest against the mine in January.