Latin America growth key for war on drugs - Obama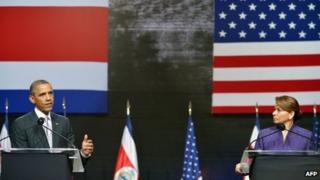 President Barack Obama has said the war on drugs will not be effectively won unless the economies of Latin American countries are strengthened.
Mr Obama was speaking in Costa Rica, where he is due to attend a summit of Central American leaders.
They are expected to discuss ways of tackling increasing violence generated by drug cartels operating in the area.
Most of the cocaine produced in South America is smuggled through the region before it reaches the US.
At a joint news conference with Costa Rican President Laura Chinchilla on Friday, Mr Obama said criminal organisations prosper in economically vulnerable countries:
"The stronger the economies and the institutions for individuals seeking legitimate careers, the less powerful those narco-trafficking organisations are going to be," Mr Obama said.
The Costa Rican president called for a review of the current approach to the drugs problem in the region.
"Costa Rica doesn't have an army and cannot allow to come to a situation of war with the drugs cartels," she said.
'Common enemy'
Mr Obama began a three-day tour of the region in Mexico on Thursday, and arrived in the Costa Rican capital, San Jose, on Friday.
He will take part in a summit of the Central American Integration System (SICA), which includes Dominican Republic and all seven Central American countries - Belize, Costa Rica, El Salvador, Guatemala, Honduras, Nicaragua and Panama.
Central America has become increasingly engulfed in the violence generated by the illegal drugs trade.
Local gangs are being employed by the Mexican cartels to bring the drug from South America.
These organisations are also involved in human trafficking, arms smuggling and other forms of crime.
The US has security co-operation agreements with several countries in Central America and Mexico, which it intends to renew.
The summit will also discuss trade and economic co-operation.
Costa Rica and other countries are expected to request favourable conditions to buy gas from the US. Guatemala is expected to raise the issue of immigration.