Brazilian football club drops 'Taliban warrior' campaign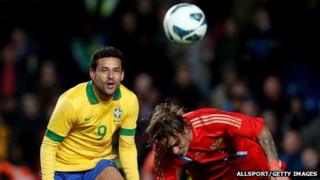 Top Brazilian football club Fluminense has asked its supporters and players to abandon an internet campaign encouraging them to pose as Taliban fighters and post the photos online.
The campaign began after the club was defeated in a match for the South American Copa Libertadores.
Supporters went on Twitter to ask players and other fans to "show their warrior spirit" and join the campaign.
In a statement, the club says the initiative glorifies terrorism.
Several players, including Brazilian international strike Fred, have posted photos with their faces partially covered by scarves with the club's colours.
Fluminense, who are the current Brazilian champions, are known by their fans as "a team of warriors".
Controversial chants
The club in a statement: "The intentions of those who began this movement and have joined it clash with the Taliban's image, who are terrorists and not healthy warriors. That is why Fluminense Football Club denounces this campaign."
The club described the "Be a Taliban warrior" campaign as a "call for violence".
Fluminense supporters were angry after their team's defeat in Ecuador on Sunday.
Local team Emelec won 2-1 thanks to a late penalty. The second leg of the tie will be played in Brazil on Wednesday.
Brazilian football chants are notoriously politically incorrect, with derogatory references to class, race, gender and homosexuality.
Some fans go to matches with flags depicting controversial figures such as Ayatollah Khomeini, Saddam Hussein and Osama bin Laden in the colours of their clubs.
But with Brazil preparing to host next year's World Cup, correspondents say football authorities are becoming more aware that the fans' attitude can damage the country's image.