Rio de Janeiro bus rape suspect turns himself in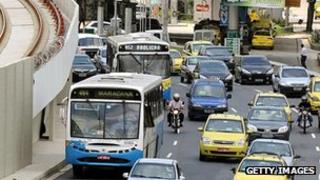 A teenager suspected of raping a woman at gunpoint after robbing passengers on a public bus in Rio de Janeiro has turned himself in, police say.
Investigators say the 16-year-old told them he regretted his crime, which he committed due to a "cocaine addiction".
The actions - caught on a security camera - shocked the country.
The rape of a tourist in late March had already raised concerns about security ahead of next year's football World Cup and the Olympics in 2016.
The armed male boarded a bus on Friday afternoon and robbed passengers at gun point, telling them to move to the back of the vehicle.
After telling the driver to carry on driving and not stop at any bus stops, he went on to sexually abuse the woman for about 30 minutes as the bus drove through Rio's main access road, Avenida Brasil.
Men arrested
In late March, an American woman was raped for six hours while her French boyfriend was beaten up, authorities said.
They couple were also forced to withdraw money from cash machines before being released.
Three men suspected of attacking the couple, after they had boarded the minibus in the Copacabana area of the city, were arrested.
Robberies are common on buses in Rio de Janeiro and other Brazilian cities but the violence and audacity of the most recent attacks has shocked local media.
Curbing violence is a major priority for city authorities as they prepare to host major global sporting events.
Days after the March incident, seven people died as a packed bus crashed off a bridge following an alleged argument between the driver and a passenger.
Rio de Janeiro's Mayor Eduardo Paes vowed to tighten security and checks on public transport.