Rio de Janeiro mayor sorry for altercation with singer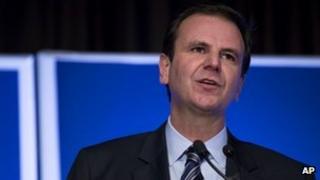 The mayor of Rio de Janeiro, Eduardo Paes, has apologised after allegedly assaulting a musician at a restaurant.
Brazilian singer Bernardo Botkay alleges he was punched in the face last Saturday, after verbally abusing the mayor in front of his wife and friends.
In a statement, Mr Paes said he welcomed constructive criticism, but that such personal aggression was not acceptable.
The alleged incident sparked a strong reaction on social media in Brazil.
Mr Paes said the musician had sworn at him and called him a tramp while he was dining.
"I was wantonly and repeatedly offended," he said in a press release issued by his office.
"Criticism, in general, is very welcome, because it helps us to fix mistakes and improve.
"What I don't accept are personal attacks in front of my wife while in private."
He did not specify what had happened, but said: "I should not have reacted the way I did."
The BBC correspondent in Rio de Janeiro, Julia Carneiro, says Mr Botkay posted on his Facebook page that he had insulted Mr Paes because he did not agree with the mayor's policies.
Eduardo Paes started his second mandate as Rio's mayor in January.
He is overseeing major changes - some controversial - to the city as part of the preparations for the football World Cup next year, and the Olympic Games in 2016.