Former Mexican governor Villanueva sentenced in the US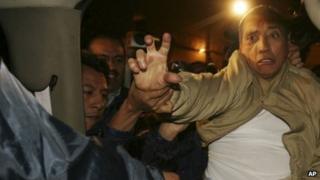 A US court has sentenced a former governor of the Mexican state of Quintana Roo to 11 years in prison for money laundering.
Mario Villanueva pleaded guilty to transferring millions of dollars in bribery money from the Juarez drug cartel to foreign bank accounts.
Villanueva, 64, received large sums of money in exchange for allowing cocaine to be smuggled into the US.
He was arrested in Mexico in 2001 and extradited to the US in 2010.
Villanueva served six years in Mexico for money laundering before his extradition.
As he co-operated with US authorities, he could be released in two to three years, said his lawyer said.
Cocaine shipments
The former governor was in office between 1993 and 1999. Prosecutors said he made an agreement with the Juarez drug cartel in the early years of his tenure.
He was paid up to $500,000 for each shipment of cocaine despatched to the US from Quintana Roo. In exchange, the authorities turned a blind eye to the drug smuggling.
"This defendant violated the public trust to enrich himself," Assistant US Attorney Glen Kopp said in the Manhattan court.
Later Villanueva began transferring vast amounts of money to accounts in the US, Switzerland and other countries.
He was put under investigation in 1999 and went on the run before being arrested in 2001.
Quintana Roo state is home to the Caribbean resorts of Cancun and Playa del Carmen.
The region has avoided most of the violence Mexico has seen since December 2006, when former president Felipe Calderon deployed the armed forces to tackle the drug trafficking cartels.