Guatemala 'to extradite drug lord' sought by US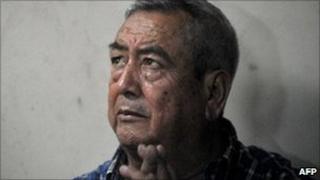 An appeals court in Guatemala has ruled that the suspected drug lord, Waldemar Lorenzana, can be extradited to the US, where he is wanted for his alleged links to Mexico's Sinaloa drug cartel.
Washington accuses Mr Lorenzana of working with the Sinaloa gang to smuggle tonnes of cocaine to the US.
The Guatemalan national, who has said he is innocent, was arrested in 2011.
Mexican cartels have stepped up their influence in Guatemala, a transit country for Colombian cocaine.
The extradition of the alleged drug trafficker was ratified by the First Chamber of the Court of Appeal, after a lower Guatemalan tribunal ruled in August 2012 that he could be extradited. No date has yet been set.
The suspected drug trafficker, nicknamed the Patriarch, has been sought by the US since 2009.
Washington says he is the ringleader of a group of drug traffickers that operates in eastern Guatemala, and plays a key role in facilitating cocaine trafficking between Colombia and Mexico.