Masks banned from Pope Francis's Mass in Rio de Janeiro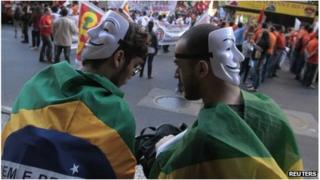 Security forces in Brazil have banned masks at Pope Francis's opening Mass at the Roman Catholic World Youth Day festival in Rio de Janeiro next week.
More than one million people are expected at Tuesday's Mass, which will be policed by 7,000 troops.
The authorities are worried the visit could spark a repeat of June's unrest, when many wore masks in the crowds.
An army general in charge of security said people with a "hostile attitude" would also be barred from the area.
There were widespread anti-government protests last month during the football Confederations Cup. Many of the protesters were wearing Guy Fawkes masks, which have become a feature of demonstrations around the world.
In an attempt to avoid fresh unrest, nearly 35,000 security officials are expected to take part in operations during Pope Francis's visit between Monday and Sunday next week.
'Hostile attitude'
A number of protests during the Pope's visit are already being planned through social media.
Brazilians have taken to the streets to complain about the state of public services such as transport, health and education; and about what they perceive as the inefficiency of their politicians.
Gen Jose Alberto da Costa Abreu, in charge of security for the Pope's visit, said the authorities would be vigilant at Monday's Mass.
"Masked people will be barred from entering. It is not the right space... for a subject with a hostile attitude, wearing a mask, to enter.
"We will not allow this to happen," he told reporters.
However, he said there would be no attempt to intervene if protests were peaceful.
"A person holding a poster is not a threat," Gen Abreu said.
Millions of young people are expected to attend the public events held by the Pope, who arrives in Brazil on 22 July.
During his week-long stay, he is also expected to celebrate Mass on Rio's famous Copacabana beach, an event expected to attract as many as two million people.