Latin American media favourable on Pope's Brazil visit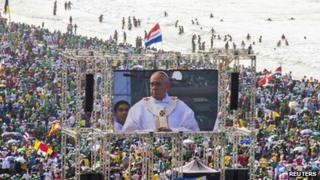 Media commentators in Latin America have given positive reviews of Pope Francis' visit to Brazil, his first international trip as pontiff.
In the Pope's home country of Argentina, one writer describes him as an "effective speaker" and notes his penchant for coining memorable phrases. Meanwhile a Uruguayan editorial sees the visit as further enhancing the Pope's appeal among Catholics from across the ideological spectrum.
But a Brazilian editorial is more focused on how the country itself fared in organising the visit, and sees some room for improvement.
Dario Pignotti in Argentina's PAGINA 12
During his first international trip since being elected on 13 March, the Argentine Pope confirmed his skills as an effective speaker with phrases that will be remembered: "We must rehabilitate politics", "Civilisation has gone too far". His speech to the Latin American bishops received less media attention. He recommended them to be less "princely" and more willing to bury their feet in the mud of reality, which is marked by the sub-continent's poverty.
Editorial in Argentina's BUENOS AIRES HERALD
While a highly positive mood prevailed throughout a euphoric week in Brazil, the papal message to youth also offered various no-nos for their lives beyond the Rio de Janeiro jamboree - an almost kill-joy rejection of "power, success, money and pleasure"; opposition to the liberalisation of drugs, etc.
Osvaldo Pepe in Argentina's CLARIN
At his farewell Mass in Brazil, the Pope combined his primary job as a pastor with his skills as a social activist. In both cases he reaffirmed the commitment of the Church, which he makes his own, to putting the poor first.
Martin Agirre in Uruguay's EL PAIS
Francis' visit, with its message of renewal, served to further enhance a figure who until now has managed to win empathy throughout the ideological spectrum, from traditionalists who envisage the possibility of a reinvigorated Church, to those who are nostalgic for Liberation Theology.
Editorial in Chile's EL MERCURIO
The pontiff with his sobriety, Latin Americanism and sensitivity, tuned in much more than his predecessors to the Brazilians who are fed up with the corruption, budgetary waste and malfunctioning of their political institutions and public services.
Editorial in Bolivia's JORNADA
The presence of Pope Francis in South America had a diverse and wide impact if you take into consideration the tide of opposition which has been brewing in several countries towards the Catholic Church. However, the pontiff's key message… presented a new framework in which there is a possibility to connect politics to the needs of the poor and the mission of the Church.
Editorial in Brazil's O DIA
World Youth Day has left behind lessons of what went wrong and especially what needs to be improved - because this was just the second in the series of mega events being hosted in Rio.
BBC Monitoring reports and analyses news from TV, radio, web and print media around the world. For more reports from BBC Monitoring, click here. You can follow BBC Monitoring on Twitter and Facebook.