Washington Post says CIA helped Colombia kill Farc leaders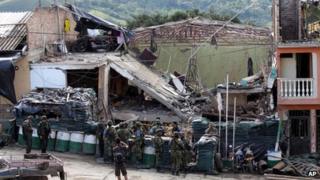 An investigation by The Washington Post suggests the CIA has helped the Colombian government kill at least two dozen members of the Farc rebel group.
The report, based on interviews with unnamed US and Colombian officials, says the CIA provided Bogota with precision guidance systems and bombs.
The covert operation was reportedly part of Plan Colombia, an anti-drugs programme set up by the US in 2000.
The Farc are currently holding peace talks with the Colombian government.
Analysts say the loss of many of its commanders led the left-wing rebel group agree to the talks last year.
The negotiations, which are taking place in Cuba, are the first face-to-face talks between the two sides in a decade.
Jungle hideouts
The paper said it protected the identity of its sources as the programme was still active.
It says the CIA programme was funded through a black budget separate from the main US military aid package for Colombia.
The technology provided by the US allowed the Colombian Air Force to locate and bomb Farc members in their jungle hideouts.
Among the Farc leaders allegedly killed with the help of the United States are Gustavo Rueda Diaz, known as Martin Caballero, and Tomas Medina Caracas, known as El Negro Acacio.
He was accused of commanding the group's drug trafficking operation. The Farc deny any involvement with the Colombian drug cartels.
According to the newspaper, another senior commander targeted by the operation was Luis Edgar Devia Silva, alias Raul Reyes, considered at the time as the Farc's second in command.
He was killed in 2008 on the Ecuadorean side of the border by bombs dropped by the Colombian air force with the help of American intelligence.
The Farc have not yet responded to the report.
The talks are aimed at ending more than 50 years of conflict, with the rebels agreeing to give up their armed struggle and join the legal political process.