Brazil police search indigenous reserve for contractors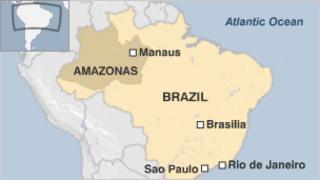 More than 200 Brazilian police are carrying out a search inside an indigenous reserve in the Amazon region.
The local Tenharim tribe is accused of holding three contractors who went missing nearly two weeks ago.
The authorities had promised to renew efforts to find the three men, after some groups in the neighbouring town of Humaita attacked government buildings and set fire to cars.
Tribal leaders deny any involvement.
Local groups say the contractors were abducted in retaliation for the death of an indigenous leader.
The police say the man, Ivan Tenharim, was run over by a vehicle on a road that crosses the reserve, but tribe members believe he was murdered.
Clashes between indigenous groups and non-indigenous locals are not uncommon in Brazil as they are often in conflict over land, logging and mining rights.
On Friday morning, more than 150 members of the tribe fled the reserve and sought refuge in a nearby military base.
Later, loggers and farmers set fire to houses in a reserve located in the nearby town of Manicore.
The security secretary for Amazonas state, Paulo Roberto Vital, said the situation was now "under control".