Leopoldo Lopez: Venezuela's maverick opposition leader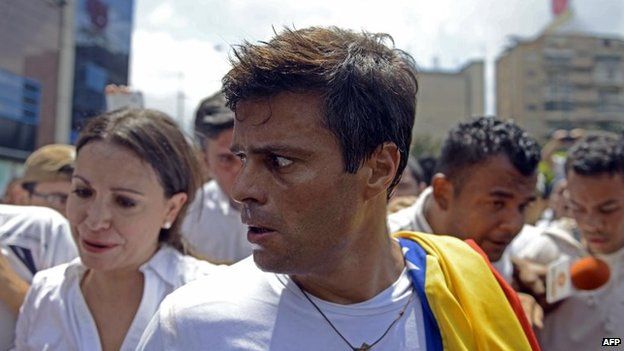 There has been a wave of anti-government protests in Venezuela, culminating in a rally on 18 February during which opposition leader Leopoldo Lopez, wanted on charges of inciting violence, handed himself in to police. The BBC's Irene Caselli looks at the man who has been accused of trying to topple the government.
Considered a political maverick, the 42-year-old politician has long been a thorn in the side of the government.
Born into a well-off family with links to the business and oil sector, Mr Lopez was educated in the United States and has a master's degree from Harvard University.
He came to prominence when he was elected mayor of Caracas's Chacao district, a position he held from 2000 to 2008.
While he was barred from running for re-election in the 2008 polls for allegedly misusing public funds, he did not retire from public life.
His supporters say the charges were politically motivated as he was neither convicted nor put on trial over the allegations.
But Mr Lopez has long been seen as a "problem" - not only by the government but also by some outside observers.
In a 2009 classified cable published by Wikileaks, the political counsellor of the United States embassy in Caracas, Robin D Meyer, wrote that Mr Lopez had become a "divisive figure within the opposition".
"He is often described as arrogant, vindictive, and power-hungry - but party officials also concede his enduring popularity, charisma, and talent as an organiser," the US diplomat wrote.
Internal divisions
Little seems to have changed since then, as the opposition coalition, made up of 30 often divided parties, continues to struggle to agree on a unified strategy.
Led by Henrique Capriles, the coalition is trying to recover from its poor showing in December's local election, when it fell well short of its goal of polling more votes than the government nationwide.
With no more elections in sight in the near future, Mr Capriles has opted to seek dialogue with Mr Maduro, shaking hands with his bitter rival in public.
Mr Capriles has since tried to gather support among those who voted for the government, a strategy which has put him at loggerheads with Mr Lopez, who is advocating tougher action against the administration.
Using social media, Mr Lopez has founded a movement using the hashtag #lasalida, which in Spanish means both "the exit" and "the solution".
'Perfect excuse'
Carlos Romero, a political scientist at the Central University of Venezuela, who is close to the opposition, worries that "la salida" may be stirring up trouble.
"He is giving the government the perfect excuse to accuse the opposition of destabilising the country," Mr Romero argues.
The government has indeed been quick in reminding citizens of the part Mr Lopez played in past unrest.
In 2002, parts of the opposition, backed by elite businessmen and some military leaders, briefly removed then President Hugo Chavez - Mr Maduro's late predecessor - from power.
The coup came after street protests, in which Mr Lopez took an active role, prompting the government to label him a "coup leader".
But a large sector of Venezuela's middle class identify with Mr Lopez and his strategy.
"If Leopoldo [Lopez] is attacked by the government, the people will defend him," student leader Daniel Alvarez said during a recent march.
David Smilde, a Caracas-based senior fellow at the Washington Office on Latin America, says Mr Lopez is an appealing figure for people to rally around.
"He is visible, attractive and talks well," he says.
Tuesday's march and his dramatic arrest have given him even more visibility.
But even if anger at Mr Lopez's detention manages to unify Venezuela's middle class behind him, he will still be faced with the government's wide base of popular support.
A change in government, which has denounced Mr Lopez as a "murderer", remains unlikely as long as the protests do not spread beyond the middle class.