Will Costa Ricans bother to vote in presidential poll?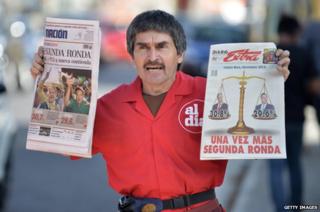 The people of Costa Rica are being asked to vote on Sunday in the second round of the country's presidential election after none of the candidates in round one garnered the necessary 40% of the vote.
The first round on 2 February was notable for the high percentage of abstaining voters (31.69%), but is there any more incentive for voters to turn out this Sunday when one of the two candidates has already dropped out of the race?
Who were the successful candidates from round one?
Luis Guillermo Solis of the Citizen Action Party (PAC) in first place with 30.64% and in second place Johnny Araya of the governing conservative National Liberation Party (PLN) with 29.71%.
Who has dropped out and why?
Mr Araya announced on 5 March that he was giving up his campaign to be president because his rival had far more support in the opinion polls. A University of Costa Rica survey the previous day had suggested that Mr Araya would only get 21% of the vote compared with 64% for Mr Solis.
Why did Mr Araya lose the first round to Mr Solis?
Former mayor of San Jose Johnny Araya was, according to opinion polls, one of the leading candidates along with ecologist Jose Maria Villalta of the left-wing Broad Front (FA) Group. However, analysts believe that Costa Ricans' dissatisfaction with rising income inequality and the scandals associated with outgoing President Laura Chinchilla's government may have scuppered his chances.
Why is the election still going ahead with only one candidate?
The Costa Rican constitution does not allow candidates to formally withdraw from presidential election ballots once they have been registered as such.
Does it matter if there is another low voter turnout?
Mr Solis hopes that at least a million people will cast their vote for him. According to analysts, he wants a solid mandate to ensure that his presidency does not get off to a shaky start. He has urged Costa Ricans to "go out and vote on 6 April" so that despite the lack of a rival candidate he can count on a wide base of voters.
BBC Monitoring reports and analyses news from TV, radio, web and print media around the world. For more reports from BBC Monitoring, click here. You can follow BBC Monitoring on Twitter and Facebook.