Puerto Rico salsa great Cheo Feliciano dies in car crash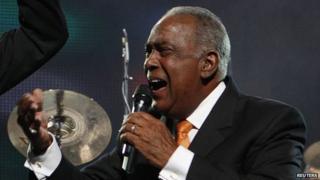 Puerto Rican salsa legend Cheo Feliciano has died in a car crash on the island, police say.
The composer and singer of salsa and bolero hits was 78.
Police said Feliciano was driving his Jaguar when he hit a concrete post in a suburb of the capital, San Juan.
A Latin Grammy Award winner, he was in the legendary Fania All Stars. Puerto Rico's governor declared three days of mourning for "one of the Caribbean island's most acclaimed voices".
Jose Luis Feliciano Vega, nicknamed Cheo by his family, moved to New York in 1952 and settled in Spanish Harlem.
After playing a variety of instruments in different bands, he landed a job as a singer with the Joe Cuba Sextet.
Addiction
He sang with the band for 10 years before joining the Eddie Palmieri Orchestra in 1967.
Feliciano was famous for such songs as Amada Mia, Anacaona and Los Entierros.
After becoming addicted to heroin he decided to return to Puerto Rico for rehabilitation. He later became an anti-drugs campaigner for the Puerto Rican government.
Police said Feliciano was travelling alone when his car hit the post in the early hours of Thursday. Transport Police Chief Jorge Hernandez Penaid said the singer had not been wearing a seatbelt.
His son said he did not know why his father was returning home so late at night. He said Feliciano had been planning performances in Acapulco, Mexico, and may have been having meetings to schedule them.
He is survived by his wife, Coco Feliciano, and four sons.