Colombia to hold ceremony for Gabriel Garcia Marquez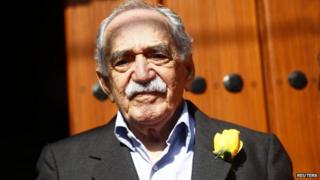 Colombia will pay tribute to the Nobel-prize winning author Gabriel Garcia Marquez in a ceremony at Bogota's national cathedral on Tuesday.
President Juan Manuel Santos will be present, but it is not clear whether Garcia Marquez's family will attend.
His relatives have confirmed, however, that they will be at a memorial ceremony in Mexico City on Monday.
The author of One Hundred Years of Solitude died on Thursday in Mexico, where he lived for more than 30 years.
Colombians feel that the man many consider to be the country's greatest son must be honoured in his homeland, says the BBC's Arturo Wallace in Bogota.
The writer fled the country in 1981, after learning that Colombia's military wanted to question him over alleged links with the country's left-wing guerrillas.
He moved to Mexico with his family and eventually chose to die there, our correspondent says.
Garcia Marquez, who was 87, will be honoured at a memorial service on Monday at Mexico City's Palacio de Bellas Artes.
The ceremony will be attended by Mr Santos and his Mexican counterpart, Enrique Pena Nieto.
A symbolic burial will be held simultaneously at his home town of Aracataca.
On Tuesday, Colombia will hold its own ceremony to honour the author, who won the Nobel Prize for Literature in 1982.
The event will be shown on national television. Elsewhere in Colombian libraries and parks there will be public readings of his books over the next few days.
Garcia Marquez was cremated in a private ceremony in Mexico.
The Colombian ambassador to Mexico, Jose Gabriel Ortiz, has said that Garcia Marquez's family has not yet decided whether his ashes will remain in one place or will split between his native and his adoptive country.
He had been ill and had made few public appearances recently. He was released from hospital in Mexico City last week following a lung and urinary tract infection, but was said to be "very fragile".
His death was announced on Thursday.
Magic realism
Gabriel Garcia Marquez was considered one of the greatest Spanish-language writers.
The 1967 novel One Hundred Years of Solitude was translated into many languages and sold more than 30 million copies.
Garcia Marquez was a pioneer of magic realism, a unique blending of the marvellous and the mundane in a way that made the extraordinary seem routine.
Presidents and fellow writers paid tribute to his legacy.
US President Barack Obama said the world had "lost one of its greatest visionary writers".
While, Mr Santos took to Twitter to pay tribute to Garcia Marquez.
"A thousand years of solitude and sadness because of the death of the greatest Colombian of all time! Such giants never die," he wrote.
Peruvian Nobel prize-winning author Mario Vargas Llosa, with whom Garcia Marquez had a long-running feud which resulted in a street fight in 1976, called him a "great writer".
"His works gave literature great reach and prestige. His novels will survive and will continue to find new readers everywhere," he told Peruvian media.
Chilean author Isabel Allende said: "I owe him the impulse and the freedom to plunge into literature. In his books I found my own family, my country, the people I have known all my life, the colour, the rhythm, and the abundance of my continent."
Controversy
Gabriel Garcia Marquez's other works include Love in the Time of Cholera, Chronicle of a Death Foretold and The General in His Labyrinth.
The novelist was at times a political figure too.
His friendship with the former Cuban President Fidel Castro sparked some controversy among literary and political circles in Latin America.
But he insisted their friendship was based on books.
"Fidel is a very cultured man," he said in an interview. "When we're together we talk about literature."