Mexico mayor admits to stealing, but 'only a little'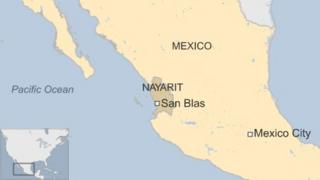 A former mayor of the town of San Blas, on the Pacific coast in the Mexican state of Nayarit, has admitted to stealing public money when he was in office.
"They say I stole a lot of money," said Hilario Ramirez while campaigning for a new term in office.
"I did steal, but it was only a little because the government was in crisis."
Mexicans from the state of Nayarit are going to the polls in July to elect a new state congress and 20 mayors.
On the campaign trail, Mr Ramirez said he had stolen with one hand, but with the other hand given the money to the poor.
"I've been criticised because they say I like money... but who doesn't like it," he told dozens of supporters listening to his campaign speech.
Mr Ramirez, who is running as an independent, said he enjoys work and is running for office again to show other mayors how to do it.
He promised to sort out the financial crisis affecting the town on the Pacific coast.
Mr Ramirez was first elected mayor of San Blas in 2008 for the conservative National Action Party (PAN).
He came to be known as "the generous mayor" because he handed out money to his supporters when he arrived at his swearing in ceremony.
He was later accused of embezzling about $1.5 million (£892,000).