Argentina subdued as World Cup hopes dashed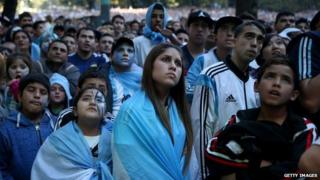 Nothing quite matches the impact of sporting disappointment, of losing a big final.
Throughout the day, excitement had been building in Buenos Aires. It seemed that all of those Argentine fans who hadn't made the journey north to Rio were descending on the Plaza San Martin in the heart of capital.
The mood was upbeat and positive; they really believed their team could win.
In the run up to kick off, tens of thousands of fans crammed into the square. There was absolutely no space.
Even the trees became vantage points as supporters climbed into the branches for a better view.
There must have been hundreds of people down in the crowd who saw nothing or very little of the action on either of the two big screens.
Two hours later, the park was a sea of mud, empty beer cans and dashed hopes.
But there is no anger in Argentina tonight.
Unlike the host nation, Brazil, who've had a disastrous tournament on the pitch, Argentina have exceeded expectations and came very close to winning their third World Cup title.
Some television pundits concluded that it wasn't a great final, but in the thick of the crowd here in Buenos Aires there'd been a growing sense of belief as the game progressed that Argentina might just win.
But, ultimately the best and most complete team won. Few Argentinian fans I spoke to after the game argued with that.
The squad and their inspirational captain, Lionel Messi, will get a well deserved reception when they arrive home in the capital later on Monday but, having come so close, it will be a subdued occasion - a case of "if only".
That's sport. That is the disappointment of losing a final. But Argentina should be in a great position to compete for the title again when the World Cup moves to Russia in four years' time.