Owner of Mexican children home freed without charge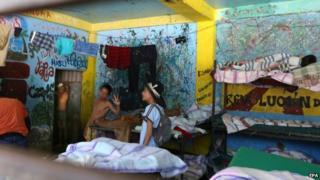 The owner of a children's home in the Mexican city of Zamora at the heart of an abuse scandal has been released by police.
The attorney-general's office said there was insufficient evidence to hold 79-year-old Rosa del Carmen Verduzco,
Police raided the home on Tuesday after protests by parents that their children were being held against their will and abused.
Officers had found around 450 children living in appalling conditions.
Rosa Verduzco was detained and questioned on suspicion of wilful deprivation of liberty and abuse.
She had been hospitalized after the raid, suffering from high blood pressure and diabetes problems.
But she was released because statements from the victims suggested she wasn't involved in any mistreatment, said the attorney-general's office.
The investigation is continuing, the spokesman added.
Ms Verduzco, also known as Mama Rosa, was seen by some as a saint-like figure. She raised thousands of children in the home.
She cultivated patrons among Mexico's political and intellectual elites, and was visited by presidents and renowned writers.
But victims had said she had left them exposed to years of deprivation and abuse where rape and beatings were a daily occurrence and children were forced to sleep and live in filthy, crowded conditions.