Brazil's president preaches unity after hard-won victory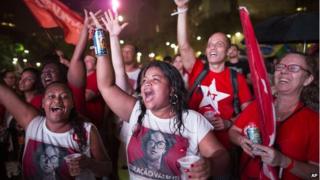 Sometimes a close contest can bring out the worst in people. Defeat snatched from the jaws of victory, weeks of effort with nothing to show at the end, lots of money spent for no return.
On opposite sides of Rio de Janeiro last night, the rival camps were nursing their wounds after a bruising campaign.
The feeling was a lot more upbeat at the Workers Party (PT) rally in the Lapa district where, despite the rain, Dilma Rousseff's supporters celebrated victory.
Speaker after speaker proclaimed a revitalised "socialist revolution", a "new tide of people power" sweeping through Brazil. They had nothing but disdain for the centre-right opponent who had pushed Dilma all the way.
Aecio Neves could "go to hell" (and a lot worse besides) as far as they were concerned.
Sentiment towards those media outlets that were perceived as elitist and anti-government was even more vitriolic.
Television crews felt obliged to point out they weren't from the Globo TV network (for fear of being harassed) and PT loyalists spoke repeatedly about the need to "clip the wings" of those newspapers and magazines that tried to implicate the president in a corruption scandal involving the state controlled oil company.
Feelings were equally strong at bars in the more upmarket beachside suburb of Leblon where Aecio Neves supporters were drowning their sorrows.
Perhaps it was the Caipirinha talking when some bitterly disappointed voters talked of "impeaching" Dilma (over the corruption allegations).
Others suggested there must have been "manipulation" of the voting system and that the re-elected "Communist" president would send Brazil on the road to ruin by aligning herself with the economically questionable polices of Venezuela and Argentina.
'Build new bridges'
With the country looking increasingly split it was Dilma Rousseff herself who first urged Brazilians to pull together after what has been a divisive and bitter election campaign.
Ignoring the inclement weather in Rio, Workers Party faithful stared up at the big screen and listened intently to what their re-elected president had to say.
"I sincerely do not believe that these elections have divided the country," said Dilma from a rally in the capital, Brasilia.
She continued in a voice almost broken by weeks of constant campaigning: "Yes, I understand that lots of contradictory ideas and emotions were mobilized.. but all in the pursuit of a better future for the country. I believe, strongly, that power can prepare the ground to build new bridges. The heat generated by arguments and disputes should now be transformed constructively to create new ideas for Brazil."
The president's appeal for unity and dialogue was an important recognition that, despite 12 years of tangible social benefits under PT rule, millions of Brazilians are less than satisfied.
The standards of public services across the country in health, education and basic sanitation are too low for a country that prides itself on having the seventh largest economy in the world. This government deserves credit for helping to bring millions of people out of poverty but, as a result, public expectations here are now much higher.
Tears of joy
Dilma is also in for a bumpy ride in the markets.
Domestic and international economists had argued hard and openly for a change of government in Brazil, a country in which they see the excessively meddling hands of big government.
After the first two quarters of the year Brazil officially went into recession and many foreign investors complain it is an increasingly difficult place to do business.
The president has promised to make some key changes to her economic team but when I spoke to her earlier this year, she remained absolutely committed to a system that has brought social justice and economic growth.
As long as people are in work and inflation is kept relatively low, Dilma is likely to stay happy.
At Sunday evening's victory rally in Rio, I spoke to a local man openly crying, so happy was he at the prospect of four more years with Dilma.
"Our project will continue," he beamed. "We can do great things and Brazil will continue to move in the right direction."
Hard work ahead
Continuity is certainly the word.
By the time Dilma leaves office in 2018, the Workers Party will have been in power for 16 years. That may prove too much for some to bear but it is undeniable that life for most Brazilians has improved immeasurably during the PT's mandate thus far.
Dilma deserves the plaudits after a tough campaign full of ups and downs, unexpected diversions and the need to press the flesh and work the crowds in almost every inch of this continent-sized country.
But Brazil is a country that looks and feels divided, along North-South, working class-middle class lines.
That is a perception that Dilma must work hard to change.
Increasing crime, a slowing economy and a worrying high cost of living could also quickly turn the nation against her.
She should enjoy her remarkable achievement but her work has barely begun.