Honduras police find human remains in youth jail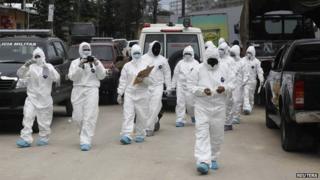 Police in Honduras have uncovered a makeshift grave containing human remains at a jail for young offenders.
They said it contained the remains of at least two inmates.
Officials said they had assumed the two had escaped six months earlier but now thought they had been killed by rival gang members.
Honduras has the highest peacetime murder rate in the world and its prisons are notoriously overcrowded and violent.
Renacimiento prison, about 20km (12 miles) north of Tegucigalpa, holds 120 inmates between 12 and 18 years of age, the majority of them gang members.
Other remains
The bodies were found after a tip-off about a grave triggered a two-day search by security officials.
Police said they thought the grave might hold six more bodies of people reported missing last year.
"We thought these youths had escaped six months ago but they could have been killed, dismembered, burned and buried over a personal dispute," police chief Gustavo Paz said.
Local media reported that the inmates more or less ran the prison from the inside as guards were too afraid to enter the premises and only controlled the perimeter.
By law, guards in Honduras are not allowed to carry firearms inside youth offender jails.
Prison breaks are common at Renacimiento.
Security was increased last week after more than two dozen inmates escaped. They were quickly recaptured after they came to blows with a rival gang.
But a group of 12 inmates who escaped in November and whom police described as "dangerous" remain on the run.