Argentina prosecutor death: Key witnesses probed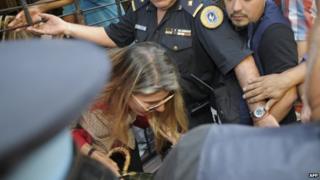 Investigators in Argentina are continuing to question key witnesses about the death of Argentine prosecutor Alberto Nisman.
Investigators spoke for several hours to his ex-wife and to an assistant who said he lent Mr Nisman a gun. Neither is being treated as a suspect.
Mr Nisman's body was found in his apartment on Sunday just hours before he was due to testify in Congress.
He had been investigating the 1994 deadly bombing of a Jewish centre.
Mr Nisman had accused several senior government figures, including President Cristina Fernandez de Kirchner and Foreign Minister Hector Timerman, of involvement in a plot to cover up Iran's alleged role in the bombing.
Eighty-five people were killed in the attack against the Amia community centre in the heart of the Argentine capital.
'False information'
In the days before his death Alberto Nisman, 51, had admitted to feeling the strain, given the controversy surrounding his report.
Mr Nisman based his allegations on intercepted conversations which seem to suggest Argentine intelligence officers tried to whitewash the Iranian suspects in the 1994 bombing.
In a 300-page report, he alleged that after years of tension caused by the 1994 bombing, the government of Ms Fernandez was keen to improve ties with Iran in order to trade Argentine grain for badly needed oil.
Government spokesman Anibal Fernandez dismissed the allegations as "absolutely feeble".
In a letter published on her Twitter account [in Spanish], President Kirchner said Mr Nisman had been provided with "false information" and that the spies he quoted were not really spies at all but had misled him deliberately.
'Not suicide'
One question which remains unanswered is whether, as rumoured, the prosecutor dismissed his security team the night before he was killed.
The BBC's Wyre Davies said that in a country used to political intrigue and scandal, this death has outraged many Argentines and the government is under intense pressure to come up with credible answers.
On Thursday, Ms Fernandez said she was convinced that Mr Nisman's death was not suicide.
Investigators initially said they believed he had committed suicide, but later said they could not rule out homicide or "induced suicide".
On Friday, the authorities banned a computer expert and colleague of Mr Nisman, Diego Lagomarsino, from leaving the country.
Mr Lagomarsino said he had lent Mr Nisman a gun on the day before he died. He said Mr Nisman was worried about his safety.