Death of prosecutor Alberto Nisman highlights Argentina polarisation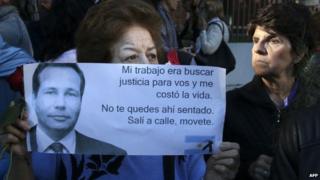 We still may not know exactly how or why Alberto Nisman was killed in his luxury Buenos Aires apartment, but the special prosecutor's death has opened a window on Argentine politics and society.
The 51- year-old had been about to reveal more details about his report into the 1994 bombing of the Jewish cultural centre in Buenos Aires, in which 85 people were killed.
In fact many people, legal experts included, have criticised the level of accuracy in Mr Nisman's investigation, saying that on closer inspection it does not stand up to legal scrutiny.
"It is more a political document than a legal one," says former Justice Minister Leon Carlos Arsalan.
At his appropriately grand offices in downtown Buenos Aires, overlooking the Avenida 9 de Julio, the legal expert offered the view that it was even possible to interpret the Nisman report as a "type of coup d'etat - an attempt to bring forward the finishing line."
'Wronged victim'
What the former minister means is that Mr Nisman's highly charged allegations, that the Argentine government tried to cover up Iran's alleged role in the 1994 attack, could be seen as a crude attempt to force an early resignation of President Cristina Fernandez de Kirchner.
Her mandate is not due to run out until the end of this year.
That is certainly how the president herself has reacted to the tumultuous events of the last fortnight.
In a much scrutinised television address earlier this week, she played the role of the wronged victim, forced to defend herself.
She was dressed completely in white and the wide television shot made it abundantly clear to viewers that she was sitting in a wheelchair.
That, in particular, was an odd touch. The president has only broken her ankle and, as in previous television addresses, one assumes that she could have sat on a chair behind a desk or on a sofa.
Polarisation not reconciliation
But Argentine analysts were left in no doubt, here was a wronged president determined to fight it out and put things right.
Most people seem to agree it was an approach that backfired.
Not once in a speech that lasted almost an hour did the president show any sympathy with the dead prosecutor or his family. This was, after all, a speech all about her.
By pointing accusatory fingers at other individuals and institutions involved in the case she also gave the impression that she was making a crude effort to interfere in what should be exclusively legal matters - what someone later described as "the judicialisation of politics in Argentina."
The president's speech was, by and large, an aggressive approach to a national crisis when what might have been expected was a more reconciliatory, collegiate response.
But that's how things are often done in Argentina.
"She has an extremely confrontational and polarised style of government," says Jorge Castro, a political strategist who has advised many Argentine governments.
"Cristina is always looking for an enemy in every situation, especially when that situation is a political crisis as we have now," he adds.
Jewish community angered
The president's response so angered leaders of Argentina's 200,000-strong Jewish community that most of them did not participate in the government's official commemorations to mark the Holocaust.
Holding their own solemn event instead, many said she had disrespected, not only the memory of the dead prosecutor, but also the 85 victims of the 1994 bombing, whose relatives are still demanding justice.
Alberto Nisman, who also happened to be Jewish, was buried in a private ceremony on Thursday - but did his investigation and his secrets die with him?
Was he killed, or forced to commit suicide, as part of an attempt to undermine the government or because he had found out too much about the 1994 attack?
Marta Nercellas a lawyer who knew Mr Nisman and was familiar with aspects of the investigation said: "He told me that the evidence he uncovered was so important and that he was so afraid that something would happen to him, that he hid the documents in three different places. They should have done more to protect him."
More details about Mr Nisman's own state of mind, whether he or his family had been threatened by powerful figures in Argentina or overseas, will probably come out in the coming weeks.
But the prosecutor's death offers a pretty grim view of fear, loathing and a very confrontational political system in Argentina.