Rocky road ahead for Argentine leader over Nisman case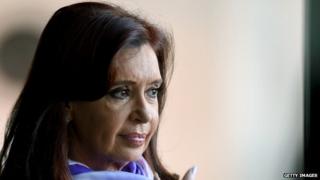 Cristina Fernandez de Kirchner has been president of Argentina since 2007 but this, the last year of her presidency, is undoubtedly the most difficult period she has yet had to face.
Cristina, as most people here colloquially call their president, is occasionally flamboyant and is naturally politically combative.
At times like this she seems loved and loathed in almost equal measure.
Her supporters are fiercely loyal to the woman they see as continuing the Peronist tradition, the Argentine political movement based on the legacy of former president Juan Domingo Peron.
The president's public appearances are few and far between and she certainly does not trust the country's independent media.
'One of us'
When she does appear for the cameras, most notably addressing the nation from the Casa Rosada - the presidential palace in Buenos Aires - there is invariably a loud, energetic throng of Peronist supporters singing and chanting her name from the courtyard below.
A wealthy woman, the basis of her support nevertheless comes from the working class areas of the capital and Argentina's provincial cities.
In a country where the economy seems perpetually on a rollercoaster of highs and lows, her government's welfare programmes and price controls are popular here.
"She's one of us, a flag-bearing militant for the Peronist movement. She stands for social justice and economic independence," says Victoria, a young campaigner and party worker I met in one of the capital's villas miserias, or shantytowns.
With elections due later this year, the Justicialist Party the president is part of is working hard, providing support in poorer migrant areas.
Personality cult
Cristina Fernandez de Kirchner leads the party's left-wing Front for Victory faction and is adored here.
There is nothing quite like Argentine politics and, to be more specific, the Peronist phenomenon, as I witnessed in a bar called Peron, Peron.
The bar, dedicated to the founders of the movement, Juan Domingo Peron and his wife, Eva, is a living shrine to the former first couple.
Their images are everywhere, there are brands of beer named after them and their speeches are repeated ad nauseam over its speaker system.
But there is undoubtedly a personality cult centred on the current president herself.
There are almost as many pictures in the bar of her and her late husband Nestor Kirchner, as there are of Juan Domingo Peron and his flamboyant first lady, fondly remembered as Evita.
Whether or not the president now sees herself as the mother of the nation, a new Evita, it is not a comparison she does much to dispel.
And, in these times of trouble, it is one she increasingly appears to be clinging to.
Not far away, at the Eva Peron museum, I met historian and guide, Santiago Regelo.
We walked past display after display, heralding Eva Peron's contribution to Argentine society before her early death from cancer.
"Every time you have Cristina in an announcement or a speech, you can see that behind her you have a picture of Evita. This is not just a coincidence," says Mr Regelo.
"To be connected to Evita is to be connected to a very important part of our society. They are both very important leaders of our nation."
'Detached'
As the situation in Argentina has worsened in the last year, economically and politically, critics say that the president has become increasingly detached.
She has been struck down by bouts of occasionally serious illness and, say her critics, has become convinced that her political enemies are plotting against her.
The still unexplained death of prosecutor Alberto Nisman, who was found shot dead in his apartment on 18 January, has highlighted how intertwined the judicial system and politics have become in Argentina.
Successive governments, not just this one, stand accused of meddling in the legal process.
Mr Nisman was investigating the 1994 bombing of a Jewish cultural centre in which 85 people died.
His death, which came just hours before he was due to give details of his findings to a congressional committee, triggered fevered speculation.
Rather than allowing the investigation into Mr Nisman's death to run its natural, independent course, the president publically criticised and vilified key people in the case, including witnesses and former colleagues of the dead prosecutor.
Damage control
On the other hand, many say that Mr Nisman's report into the 1994 bombing was an overwhelmingly political document rather than one based on legal argument.
Days before his death, Mr Nisman had accused the president of plotting to cover up Iran's alleged role in the bombing.
The president and her officials vehemently denied the allegations.
But the president's move of portraying herself as the victim of a plot and showing little sympathy for the dead prosecutor's family backfired.
With only about 10 months left in office, Cristina Fernandez de Kirchner will probably survive any attempt to impeach her over Alberto Nisman's report into the 1994 bombing.
But the episode has damaged her support and credibility.
If she is to emulate her heroine Evita Peron and be remembered as more than a footnote in the country's turbulent political history, the Argentine leader has a lot of ground to recover in the coming months.