Could US-Cuba talks change Major League Baseball?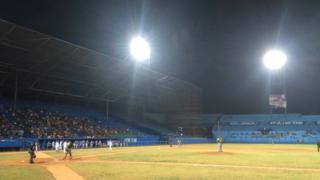 After 54 years, the US is in talks with Cuba to normalise diplomatic relationships between the two countries. For baseball fans, it could mean an influx of Cuban talent to the US Major League.
Under the floodlights of the Latinoamericano Stadium, the players of Industriales of Havana and Vegueros of Pinar del Rio stand on the field for the Cuban national anthem. The crowd are on their feet too.
There is a tangible sense of victory around Cuban baseball at the moment.
It is just weeks since Vegueros, strengthened with some of the island's top players, won the 2015 Caribbean Series in Puerto Rico. For many fans, the victory was about more than just a game.
It was a message: Cuban baseball is back where it belongs.
Over the years, Cuba has produced many of the world's finest baseball players. Jose Abreu and Aroldis Chapman are just two Cubans currently lighting up Major League Baseball (MLB) in the United States.
In both those cases, the players opted to defect in order to gain the lucrative contracts on offer in the MLB under "free agent status".
But without defecting, joining the MLB was out of the question for most Cuban stars.
Now the thaw between Havana and Washington might just change all that.
"Everything's possible, everything", acknowledges Heriberto Suarez, the President of the Cuban Baseball Commission.
"We've had Major League teams get in touch about setting up training camps in Cuba, they've asked about the availability of some of our trainers, about holding spring training here."
Meanwhile young Cuban players are daring to dream.
In an example of the huge amounts of money on offer, a 19-year-old Cuban infielder, Yoan Moncada - who left the island with the permission of the Cuban government - has just signed a 31.5 million dollar contract with the Boston Red Sox.
Fans at the Latinoamericano Stadium said they'd accept losing their young hopefuls if the Major Leagues came calling.
"It would be fine, as long as things are done with respect and consideration for both sides," says Meneno, an avid Industriales fan. "I'd welcome it. It's important to share - in baseball, in sports, in health, development, employment, everything."
"We've been banned from playing in the US for too long," adds his friend, Jose Saez. "It's time to end this stupidity and respect us. I'd be happy for any young player the US gives an opportunity to."
For others this thaw may be coming too late.
Third baseman Yulieski Gourriel was considered Cuba's finest player in 2006 and is permitted to ply his trade in Japan during the off-season. But now in his thirties, he fears his chance at a shot in the Major Leagues may be passing.
"I always say it's never too late but I would have liked this to have happened a lot earlier - ideally at the start of my career," he says with a certain resignation.
Gourriel has done well in Japan, but he knows the multi-million dollar contracts of some of his contemporaries may be tantalisingly out of reach.
"There are a lot of talented youngsters around, 20 or 21 years old. But even at this age, I've tried to make the most of it - throwing myself into this sport like every day was the first day."
The man at the top of Cuban baseball is keen to temper expectations.
"There may be opportunities to play in the Major Leagues, and we certainly have the talent," says director of the Cuban Baseball Commission, Heriberto Suarez. "But none of this has materialized yet."
Nothing can happen, he says, until the United States lifts the economic embargo on Cuba, or at least those parts of it which deal with baseball and sports.
"We have heard the proposals of the new US baseball commissioner, who is waiting for the changes that lifting the embargo might bring. But for now it's still in place. So we're in a listening phase."
Yet despite the fact the embargo bans Major League Baseball from operating in Cuba, several teams are already said to have a presence on the island.
Michael Powell is a sports columnist for the New York Times and recently visited Cuba to report on baseball.
Major League teams, he says "are very wary of doing anything that might be seen as violating the embargo. For instance, they're not supposed to have scouts, they're not supposed to really do anything in Cuba."
"That said, I spoke to a former general manager of a Major League franchise and he put me in touch with a couple of fixers down there," he says.
Rules or not, he says, some teams are already conducting "intellegence gathering" in Cuba.
Back at the Latinoamericano Stadium, Industriales of Havana are just edging the game as both teams push for a place in the playoffs.
These are undoubtedly exciting times for Cuban baseball.
But no one is getting carried away just yet.
Players and fans alike are keen to see more Cubans hitting home runs in the MLB, but they're well aware the diplomacy could still strike out.