Lucha libre wrestler Pedro Aguayo killed by blow in Mexico ring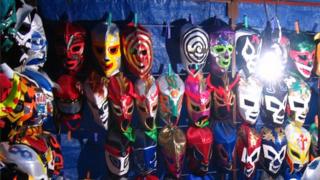 A celebrated Mexican wrestler has died after taking a heavy blow to the neck in the ring.
Pedro Aguayo Ramirez, known as "Hijo del Perro Aguayo" was thrown on to the ropes after a kick from Oscar Gutierrez, known as "Rey Misterio Jr".
The match in Tijuana continued for several minutes before anyone realised that Aguayo was not moving.
He was rushed to hospital but died early on Saturday morning. An investigation has been opened.
The cause of death is still unclear but local media report that he suffered cervical spine trauma.
The state prosecutor's office has said it is looking into possible manslaughter.
Aguayo was the son of retired wrestler Pedro "Perro" Aguayo, a wrestling legend from the 1970s to 1990s.
The company AAA, where he worked, tweeted: "Pain overwhelms our hearts again. Rest in peace, Hijo del Perro Aguayo".
Wrestler Hijo del Santo told Associated Press: "I think the fans in Japan, the US and Mexico of course, where he was very popular, must be in mourning, especially because of his youth. He had much ahead of him."
Professional wrestling or lucha libre is extremely popular in Mexico and is known for its colourful costumes and famous characters.