Colombia bishop offends both believers and homosexuals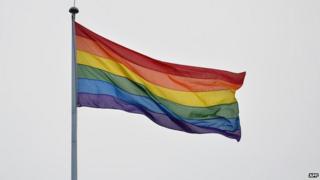 A Roman Catholic bishop in Colombia has offended believers at a conference on gay marriage and adoption.
Bishop Juan Vicente Cordoba said that homosexuality was not a sin and that gays were welcomed by the church.
He then wondered whether any of Jesus's 12 apostles might have been gay or Mary Magdalene a lesbian.
Conservatives in the audience condemned his musings, but gays were also upset at Bishop Cordoba's use of a pejorative Spanish term for homosexual men.
Bishop Cordoba later apologised for his remarks and said the church should show respect for the gay community.
But he said the Catholic Church would not recognise same-sex marriages as a family and stressed that it believed sexual relationships between same-sex couples went against natural law.
Gay marriage and adoption are issues being hotly debated in Colombia after the country's constitutional court last year ruled that same-sex couples could only adopt a child if it was the offspring of one of the partners.
Two years earlier the country's Congress had voted against allowing gay marriages.