Venezuela crisis: Rivals agree on agenda for talks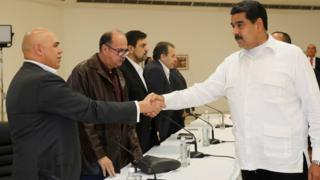 The Venezuelan government and opposition parties have agreed on an agenda for talks aimed at ending the country's deep political crisis.
In the first face-to-face meeting between the two sides this year, they set a date of 11 November for a "national dialogue" to begin.
The meeting was mediated by a Vatican envoy and former international leaders.
The opposition has been trying to remove President Nicolas Maduro from office through a recall referendum.
But a signature drive to demand such a referendum be held was suspended by the electoral authorities over allegations of fraud.
The move led to opposition protests and increased tensions between the government and the opposition.
The latter staged a huge rally on 26 October and a general strike on 28 October.
Sunday's five-hour meeting west of the capital, Caracas, was aimed at defusing the tension between the two sides.
President Maduro shook the hands of the five opposition leaders who attended the talks.
"There is no alternative to dialogue and meeting in search of the nation's common interests," Mr Maduro said as he arrived.
The Vatican envoy who is mediating the talks, Archbishop Claudio Maria Celli, said the fact that the two sides had met was "very positive".
But the spokesman for the opposition Democratic Unity Roundtable (MUD) coalition, Jesus Torrealba, on Monday described the meeting as "arduous, intense and brusque".
The two sides agreed to create four working groups to discuss specific issues such as Venezuela's dire economic situation.
But Mr Torrealba said that opposition plans for a march to the presidential palace on Thursday remained in place.
Attempts by government critics to reach the presidential palace have in the past led to tense stand-offs between the police and protesters.
The opposition says the government is to blame for spiralling inflation and food shortages which have crippled the oil-rich nation.
The government in turn accuses the opposition of waging an economic war and trying to oust Mr Maduro by force.