Hurricane preparations: 'First Irma, now Maria'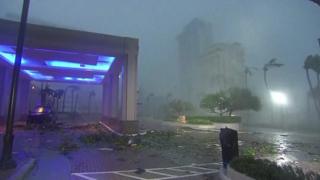 As Hurricane Maria pushes north-west through the Caribbean many people have been battening down the hatches for a second time.
In Puerto Rico, Alexandra and her husband Erwin, who live in an apartment in San Juan, waited patiently for Hurricane Maria to subside.
"This isn't our first hurricane," Alexandra said.
"We can remember Hurricane Hugo back in 1989 and more recently when we were hit by Irma about 30 trees went down and we went a week without power or water.
"Luckily there was not too much damage but it was very blustery."
The couple braced themselves for more devastation during Maria.
"We've now moved into one room in our apartment with our dog and we have covered up all of the windows," she added.
"We can hear the winds outside and water is still seeping through any nook and cranny it can find.
"As we're on the third floor, we feel quite safe."
The couple have managed to stock up on provisions despite the fact that a lot of shops had run out of canned food and bottled water. They also managed to get batteries and gas to run a small stove.
"This is our worst hurricane so far," Alexandra said of Hurricane Maria. "Trees are down, car alarms are going off and the wind is howling.
"Even if we were allowed, we couldn't get out of the apartment. Our front door won't open because of the force outside."
In the British Virgin Islands, Gill Hale, who lost her roof during Hurricane Irma, took refuge at a friend's house waiting for Maria to abate.
"We lost most of our personal possessions at our house during Irma," said Mrs Hales.
She and her husband moved to the British Virgin Islands in January 2017, although her son has lived there for five years.
"The furniture inside was thrown around by the wind - part of the bed was in the kitchen and the bedside tables were in the sitting room.
"We had to wait three days for the road to be cleared.
"My son and husband want to stay to help the island and the businesses rebuild and we will need to purchase a generator as there will be no electricity available island-wide except in very lucky pockets for months to come."
Mrs Hales said she had hoped to fly to the UK to visit her 85-year-old mother on the day that Irma struck. Her rebooked flight coincided with the day that Maria was due to hit.
"Let's hope it's third time lucky," she said.
By Sherie Ryder, UGC and Social News team