Syrian drought triggers rural exodus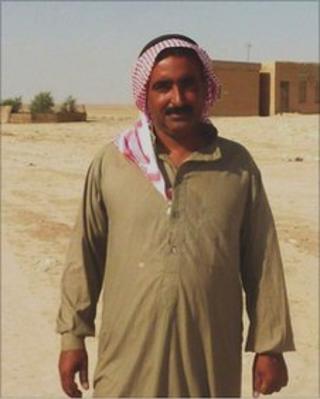 As you drive along the Euphrates river in northern Syria, you see lush green fields, but keep travelling east, and the land that was once filled with life is now dry, barren and empty.
The ground is rock solid, cracked by the heat of the sun. It is hard to imagine, but wheat and cotton used to grow here.
These areas, traditionally the main farming region in the north-east of the country, have been affected by drought for four years.
Some rain may have fallen, but not enough. The ground is rock solid, crops can't grow, and village after village has been abandoned.
Those who have chosen to stay, struggle to survive.
"There used to be hundreds of people in this village, now there are 20 left. They all migrated because of the drought," says Mohammad al-Trad.
Once a farmer, he now lives in a mud house on the edge of the deserted village of Meizeila.
Unable to grow wheat, Mr Trad relies on selling his livestock for money. He used to own 1,000 sheep, but now he has just 50.
The United Nations and the Red Cross along with the Syrian government are providing some help to the families.
The World Food Programme (WFP) has started to distribute food to more than 200,000 people and the Red Cross has funded water deliveries.
The UN estimates around 800,000 people have left their homes.
Many have moved to makeshift camps on the outskirts of cities.
'Hungry and naked'
Farmer Abu Taiseer, 50, who travelled with his family to Sasa, south of Damascus four months ago, says they are desperate for help.
"It's not us who should tell the government what to do. They need to find a solution. We tell them that we're hungry, we are naked, we need schools," he says.
There is no electricity or running water in the camp, which is home to about 100 people, half of them children. None go to school.
The men are sometimes able to find work as casual labourers, but they earn just $5 (£3.2) a day.
"We are hungry," says Zakia, a mother of 15, who has put many of her children to work.
"If we manage to earn $2, then we buy water. There's no water for animals or humans. My daughters have to work - or there's no food."
The Syrian government, the UN and international organisations have been focusing on helping people still in the drought zone, so these families are left to fend for themselves.
"We don't want to provide assistance to these people where they are now, and create a dependency syndrome," says Muhannad Hani, the WFP country manager.
"Those people are farmers… We're working in partnership with the government to make sure that those people return to that place and resume what they've been doing for decades and centuries," he says.
The WFP has also called on the international community to do more to help the hundreds of thousands of people affected by drought in north-eastern Syria.
In the meantime, these families continue their daily struggle to survive, living on the outskirts of a city which offers so much promise, but little hope.