Gaza: Israeli air strike kills Palestinian militant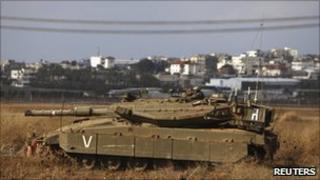 A 25-year-old Palestinian militant has been killed in an Israeli air strike in the southern Gaza Strip.
Jamal al-Najjar was struck down while riding his motorcycle in Khan Younis, Palestinian reports said. He was a member of the al-Quds Brigade, Islamic Jihad's armed wing, locals said.
The Israeli military said Mr Najjar was planning a "massive terror attack" in Israel. It confirmed a "direct hit".
Cross-border violence has escalated in recent weeks.
On Monday, Gaza militants fired three rockets into the Israeli coastal city of Ashkelon, 10km (six miles) north of Gaza. No injuries or damage resulted.
Meanwhile, Israeli troops shot dead a 65-year-old Palestinian farmer near the border fence.
An earlier mortar attack, on 8 January, was claimed by Islamic Jihad. It left three people wounded on an Israeli kibbutz, two of them seriously.
Amid the escalating violence in recent weeks, the Gaza Strip's Hamas rulers have appealed for calm, urging other militant factions to stop their attacks on Israel.
It is two years since the war in Gaza which left 1,300 Palestinians and 13 Israelis dead.