Egypt opposition divided ahead of possible transition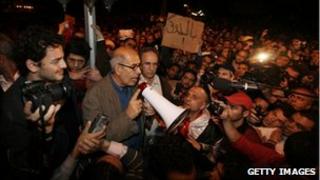 Egypt's opposition groups are weak and fractured, offering no clear leader to steer the country during this historic opportunity for democratic change.
Ruled by a succession of military strongmen since the 1952 revolution, Egypt's political system has successfully stifled opposition voices.
The official secular parties - Wafd, Tagammu and Nasserist - are weak and unpopular.
Other potential rivals to President Hosni Mubarak have been sidelined, jailed on dubious charges or subjected to vicious smear campaigns.
Now Mr Mubarak has ruled out running for a sixth successive term in September's election, the door could be opened for serious change.
Crucially, amendments are expected to constitutional rules that set the bar impossibly high for presidential candidates, particularly independents. The number of six-year terms a leader can serve is expected to be restricted to just two.
Key contenders
Alongside any figures from the ruling National Democratic Party, other names mentioned as contenders in the future presidential race include the head of the Arab League, Amr Moussa; former UN nuclear watchdog chief Mohamed ElBaradei; founder of the Ghad (Tomorrow) party Ayman Nour; and Hamdin Sabahi of the unlicensed Karama (Dignity) party.
Asked in a television interview whether he would run, Mr Moussa, a former Egyptian foreign minister who has always been guarded in the past, said he would seriously consider it. "Yes, I have that right, but I will think seriously in the next few weeks," he said.
Nobel Peace Prize winner Mohamed ElBaradei indicated last year that he would run for the presidency if there were guarantees of free and fair elections.
He then went on to set up the National Association for Change (NAC), a loose coalition of pro-democracy forces and political movements.
On Sunday, Mr ElBaradei said he had a mandate from opposition groups to make contact with the army and negotiate a government of national unity. But the opposition wants Mr Mubarak to step down first.
Some demonstrators in Tahrir Square were sceptical about Mr ElBaradei's brief appearance among them on Saturday, suggesting it was an attempt to hijack their cause
However, his brother and spokesman Ali ElBaradei stressed that the Egyptian people had to determine the course of action: "This movement has always been in the hands of the people. Nobody controls the street," he told the BBC.
Out and about
Meanwhile, other opposition faces have been out on the streets from the first "day of rage".
Most notable was Ayman Nour, who spent four years in prison on what were widely seen as trumped-up forgery charges after finishing a distant second to Mr Mubarak in the 2004 election.
The liberal lawyer remains ambitious, keen to run again, although support for him has waned.
Hamdin Sabahi, of Karama, has also joined the crowds. Although he is a member of the NAC, he has rejected Mr ElBaradei as a transitional leader of Egypt and makes no secret of the fact that he would like to be president.
There is a danger that the current crisis could magnify personal rivalries and political differences in the opposition.
While there is talk of political movements and unions trying to form a shadow government, the former co-ordinator of the National Association for Change, Hassan Nafea, said he had left an informal meeting feeling worried.
"I discovered we cannot have a common position on how we should handle a transition period," he said. "This happened prematurely for the groups."
Deliberate silence?
The Muslim Brotherhood, the biggest and most organised opposition movement, has kept remarkably quiet during demonstrations.
Analysts say the Islamist group is sensitive to international suspicions that it wants to restore a caliphate - Islamic rule - in Egypt.
Comments from the leadership have been carefully calibrated to show they are part of Egyptian society. One figure, Essam el-Erian, said the verdict of the people will be accepted "whatever it may be".
The Brotherhood is currently illegal in Egypt, as are any political parties with a religious background. Its past success in parliamentary elections has been achieved through members running as independents.
It is clear that many Muslim Brotherhood members and other opposition activists have joined anti-government protests, but the crowds are remarkably savvy about avoiding political or religious slogans that could define and divide them.
When a small band of Wafd members joined their ranks they were shouted down: "This is popular," the cry went up.
The Brotherhood's "Islam is the solution" slogan has also been largely absent from banners, as have shouts of "Allahu akbar" or "God is great", often used in demonstrations.
'Departure Friday'
Protesters are now determined to hold massive rallies on Friday, which they describe as "departure day" for Mr Mubarak.
On its Facebook page, one of the main organising groups, the 6 April Youth Movement, says the president's promise to leave office in September is just a ploy to buy some time.
"He needs a way to get back in control of the peaceful Egyptian uprising so he can stop us from speaking out and make us afraid again," it says.
In the past, his "control" - running Egypt like an army or large corporation - has prevented conventional politics from taking hold.
If he is removed from office, real democratic change will take time.
No clear alternative leader has emerged and the opposition has much work to do to organise itself and involve ordinary Egyptians.