Egypt unrest: Uneasy Cairo tries to reclaim its buzz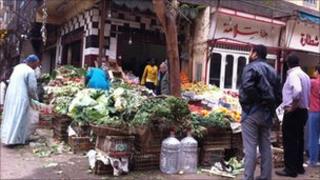 Anyone familiar with Cairo could not help but be shocked by the transformation.
Normally a non-stop, congested metropolis, it is still remarkably quiet 12 days after anti-government protests began.
Street corners that I have only ever seen knotted with traffic are now easy to drive around. Petrol shortages, road closures and a general sense of unease mean people are not travelling around unless they have to.
"Still not all the petrol stations are open so we are trying to make our fuel last," one motorist told me.
"Also it is not good to be out after the curfew or to go near any trouble."
In the popular shopping areas to the west of the city centre at least half of the shops are shut. Many have shutters down or have been hastily boarded up.
Only food is readily available, from the small round loaves of bread being sold at the roadside to the popular Egyptian bean snacks - foule and taameya - on offer at traditional restaurants.
Cash shortage
In the market on Sulayman Goha Street in Dokki, housewives are stocking up on fresh fruit and vegetables but there are plenty of complaints about inflation.
"It is more than double the price for tomatoes and onions and okra," Asmaa Hassan points out. "Everything has got expensive."
A stallkeeper explains that while food is in good supply, distribution - which is inefficient at the best of times in Egypt - has been the major problem. As transport costs have risen, so have prices.
For now, poorer Egyptians are spending cautiously. Businesses, including banks, have been shut and many people do not have cash because pay day - which usually falls at the beginning of the month - was disrupted.
"People have no money and they are too worried to go shopping," says a man called Hamdi.
"They are waiting to see what happens now."
While there are long queues outside bank cash-points, many are still operating. We see soldiers with guns in an armoured vehicle escorting a bank van carrying money.
Some police can now be found on guard outside banks and embassies, or directing traffic, but their absence for more than a week has had a visible effect.
There is plenty of evidence of looting and vandalism around the capital.
Western-style hypermarkets on the outskirts have been ransacked and set on fire. Several shops selling electrical goods have been broken into and stripped.
Worried they could be the next targets, stores selling luxury goods have removed all items from their premises.
Yet there are increased signs of city life returning to normal. Municipal workers are out collecting rubbish in some places.
Once again men are seated outside their local coffee shops. They suck on water pipes and chat, but pay more attention than usual to their newspapers and television sets kept permanently tuned to Arab satellite news stations.
Entrepreneurial types are finding ways to capitalise on the current situation.
Teenagers sell Egyptian flags to those wanting to show their patriotism and a man selling locks and safes reveals he is doing his best business in years.