Gaza youth vent anger on Facebook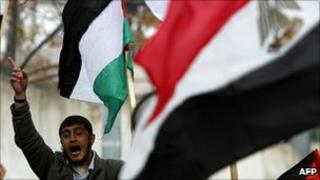 As Egypt's unrest continues, in neighbouring Gaza, an online manifesto for change has struck a chord with the young population.
A young man in his 20s peers into the room cautiously before walking in and shaking my hand. He looks nervous and tired, dark circles under his eyes.
"Don't use my real name and if you record the interview you've got to disguise my voice," were almost the first words he said.
"I've been losing sleep over this," he adds firmly.
Khaled (not his real name) has become something of an online sensation in Gaza, but is now effectively living in hiding.
He is one of the authors of the Gaza Youth Manifesto for Change, a 450-word tirade against the frustrations of life in the Strip.
Posted online in December, the manifesto now has over 19,000 followers on the group's Facebook page under the name Gaza Youth Breaks Out.
Heartfelt tirade
The manifesto's opening salvo is a series of expletives directed at Hamas, Israel, Fatah, the UN, and the US.
"We, the youth in Gaza, are so fed up with Israel, Hamas, the occupation, the violations of human rights and the indifference of the international community!" it says.
It is an angry, sometimes abusive, but overall articulate and heartfelt tirade about growing up in Gaza.
"ENOUGH! Enough pain, enough tears, enough suffering, enough control, limitations, unjust justifications, terror, torture, excuses, bombings, sleepless nights, dead civilians, black memories, bleak future, heart-aching present, disturbed politics, fanatic politicians...
"WE SAY STOP! This is not the future we want! We want to be free. We want to be able to live a normal life. We want peace. Is that too much to ask?"
The manifesto was written by a group of eight friends - most of them students or former students in their 20s.
"We were trying to send a message that we are not animals or terrorists like we are portrayed around the world. We're strong. We're educated. Leave us alone. We want to be free," says Khaled.
He says he never dreamed his Facebook group would pick up so much support.
"We've been getting hundreds of e-mails, many from here in Gaza but also from all over the world."
Cut off
Others though are not surprised that the manifesto has touched a nerve.
"Young people here are ready to explode. They go to college, they graduate with no opportunity of any job at the end, except working for Hamas," says Mukhaimer Abu Sada, professor of political science at al-Azhar University in Gaza.
"Life is doomed here in Gaza. If nothing is done, we are on the verge of a human catastrophe," says Mr Abu Sada.
There are four big universities in Gaza and several smaller colleges. For many young people, study is one of the few things to do.
Unemployment is Gaza runs at about 40%, according to the UN.
Gaza remains under an Israeli blockade. That blockade was tightened in 2007 after the Islamist movement Hamas came to power.
Hamas won elections in 2006 but is regarded by Israel, the US and the European Union as a terrorist organisation.
The blockade means it is extremely difficult for Palestinians to get Israeli permission to leave Gaza.
Increasingly you meet more and more young people here who have never left the Strip, an area of land around a quarter the size of London.
The blockade is one of the main points addressed in the manifesto.
"We're sick of the wall of shame that separates us from the rest of our country and keeps us imprisoned in a stamp-sized piece of land," it says.
Political infighting
But the group's manifesto is also extremely critical of Hamas.
"We're sick of bearded guys walking around with their guns abusing their power, beating up or incarcerating young people demonstrating for what they believe in."
More than half of Gaza's population is under the age of 18. Some have been inspired by events in Egypt and Tunisia.
Many young Palestinians feel the frustrations suffered by the demonstrators in Egypt: poverty, high unemployment, lack of opportunity, and dissatisfaction with their political leaders.
In the past two weeks, there have been calls issued on Facebook sites for pro-democracy demonstrations in Gaza against Hamas. But so far any protests have been very small and quickly broken up by Hamas police.
The manifesto also attacks the political infighting between Hamas and Fatah, their secular rivals who control the West Bank.
But Khaled feels that in some ways the group's message has been misinterpreted. He has been receiving e-mails from Israeli groups praising the manifesto for criticising Hamas.
'We don't want their support," Khaled says. "Our main grievance is with Israel and the occupation, not with Hamas."
Because of this, Khaled says they will soon change the manifesto to refocus criticism on Israel and away from Hamas.
Despite the fact he believes Hamas are looking to arrest him, he denies that the changes to the text are coming because he is scared. He says it is rather because he does not want to be misunderstood.
At the moment this is not really a political movement, more a group of young people who seem to have touched a nerve and have managed to clearly articulate the obvious frustrations of growing up in Gaza.
It is not clear how many of their supporters on Facebook are actually in Gaza or how many are people outside the Strip who have heard about the group through international media coverage.
But with almost a million Gazans being under the age of 18 - many feeling the same frustrations - the potential for the group to grow is surely there.