Stand-off in Yemen as protesters reject concessions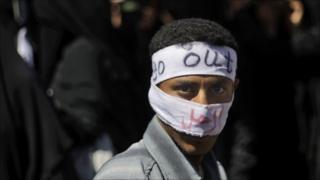 Hopes for a political deal in Yemen are fading rapidly, after a violent confrontation between police and pro-democracy protesters in the capital Sanaa left several people dead.
Just two days earlier, President Ali Abdullah Saleh offered to rewrite the country's constitution to give parliament a more powerful role in the country's affairs.
He also promised to devolve power to the regions and hold a referendum on the new system before stepping aside himself in 2013, at the time of the next scheduled presidential elections.
Yemen's opposition parties have already rejected the offer, calling instead for President Saleh to leave office by the end of this year.
Opposition politicians are caught in the middle of an increasingly tense stand-off between the regime and the street protesters, who are impatient for change and unwilling to lend their support to political negotiations.
They want President Saleh to stand down now, after 32 years in power.
Arson attacks
This demand is echoed right across the country, from the mountain capital, Sanaa, to the bomb-damaged city of Saada, where local rebels are observing a ceasefire after several cycles of conflict with President Saleh's government.
Tens of thousands of people have been marching through the streets in the highland towns of Taiz and Ibb, and smaller protests have taken place in other provincial cities.
Long-standing tensions in the southern port of Aden - a well-known flashpoint for clashes between southern separatists and the regime's security forces - have intensified since the start of the current crisis.
At least 20 people have died in riots since January. Buildings and cars have been torched in night-time arson attacks. Army checkpoints restrict freedom of movement throughout the city.
US-trained
Witnesses interviewed by Human Rights Watch for a report, entitled Days of Bloodshed in Aden, described the Central Security Forces as "the perpetrator of the worst incidents of violence".
The CSF is commanded by President Saleh's nephew, Yahya, and its elite counter-terrorism unit is trained and funded by the American government.
Many Yemenis are angry that the US is providing military aid to the president and his family, and argue that their country's future is being held hostage to US counter-terrorism interests.
US officials have been urging dialogue, hoping that President Saleh and the opposition parties can find a solution that will defuse the current political crisis.
However, President Saleh has just played his strongest hand - short of stepping down immediately - and the opposition coalition is saying that his concessions come too late.
Within the opposition, many believe that they will lose popular support on the street if they agree to a power-sharing deal at this crucial moment, and they calculate that the greatest opportunity lies in waiting for the current regime to collapse.
If that does happen, and President Saleh is forced from office by popular demand in the coming weeks or months, his proposed constitutional changes are likely to form the basis of any replacement coalition government.
Ginny Hill is an associate fellow at Chatham House, where she runs the Yemen Forum