Iraq soldiers killed as suicide bomber hits army base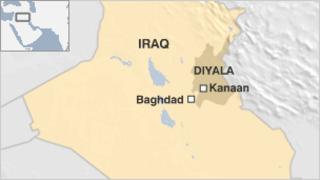 At least nine soldiers have been killed in a suicide bomb attack on an Iraqi army base, officials say.
The attack took place in the town of Kanaan, about 70km (43 miles) north-east of Baghdad, in Diyala province.
At least 14 other soldiers were wounded when a vehicle packed with explosives drove into the complex.
Violence in Iraq has receded from the extreme levels seen in 2006-07, but attacks on civilians and security forces are still frequent.
A security official said a truck filled with explosives was driven into an army barracks, destroying the building, AFP news agency reported.
Rescue workers were trying to free victims from beneath the building's rubble, a spokeswoman for Diyala's provincial government said.