Fogel murders: Israeli army 'detains 60 Palestinians'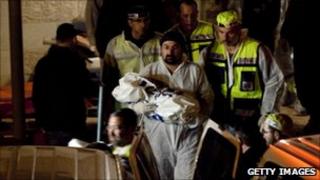 Israeli troops detained 60 people in an overnight raid on a West Bank village as they searched for the killers of a settler family, the local Palestinian council said.
The Fogels and three of their young children were stabbed as they slept in the Itamar settlement.
Israeli police suspect Palestinians of carrying out the attack, but officers have not said what evidence they have.
Many of those detained were released. But some 40 suspects remain in custody.
It was the latest round of arrests in the Palestinian village, near Nablus, which has been put under night curfew several times.
Israeli police are not commenting on the investigation. An Israeli court has imposed a gagging order on reporting details of the case.
The killing on 11 March of five members of the Fogel family, including three young children, has shocked both Israelis and many Palestinians.
Officials said the assailants cut through a fence around the Itamar settlement and entered the Fogels' home, stabbing to death parents Udi and Ruthie, Yoav, 11, four-year-old Elad and baby Hadas, aged three months.
Their bodies were found by a 12-year-old daughter. Two other children sleeping in another room in the house were not hurt.
Searches
The investigation is focusing on the nearby Palestinian village of Awarta, says the BBC's West Bank correspondent Jon Donnison.
Residents say the troops arrived in Awarta just after midnight, carried out extensive searches in several homes and arrested dozens of people.
The local council there says more than 100 people have been brought in for questioning over the past fortnight. About 40 are still being held, it says.
Palestinian Authority President Mahmoud Abbas has strongly condemned the murders, calling them "immoral and inhuman".
There are almost 500,000 settlers living on occupied Palestinian land in the West Bank and East Jerusalem. Settlements are regarded as illegal under international law although Israel disputes this.