Syria unrest: Wave of arrests follows protests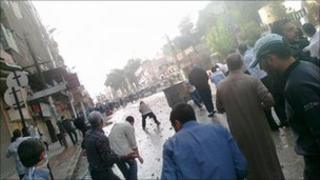 Syrian security forces have arrested dozens of people after clashes at pro-democracy protests in several cities left at least seven people dead, activists say.
Most arrests came in the southern city of Deraa and the Damascus suburb of Douma, scene of the worst violence.
The government said its security forces were not responsible for the deaths, blaming them on "armed groups".
Coverage of the protests is difficult to gauge because of media restrictions.
Some reports said as many as 15 people had died in Friday's clashes.
A resident told the Associated Press that there was tension in Douma, with security forces patrolling the streets and checking documents.
Others said bodies of some of the dead had been withheld, amid fears that funerals would spark further violence.
A joint statement by eight human rights groups, quoted by AFP news agency, said 46 people had been arrested.
Late on Saturday, Douma residents called for three days of general strikes in protest at the killings and arrests. All shops have already been closed.
The local authorities had promised to hand over the bodies of those who died to their families on Sunday morning, and their funerals were due to take place after noon prayers at the Grand Mosque, residents said.
President Bashar al-Assad said earlier this week that the pro-democracy demonstrations were part of a foreign "plot", but he agreed to examine the unpopular Emergency Law, which has been in place since 1963.
Activists and human rights groups estimate that between 60 and 130 people have died in clashes in the past two weeks. Officials have said the death toll is closer to 30.
The BBC's Lina Sinjab in Damascus says protesters released from custody say that all those who were detained during the protests were brutally beaten, humiliated and branded traitors by the security forces, who accused them of links with foreign forces.