Egypt: Former PM Ahmed Nazif and ministers face trials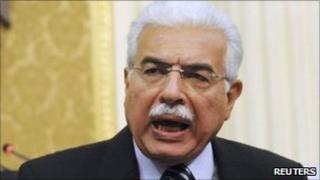 Egypt's former Prime Minister Ahmed Nazif and the former interior and finance ministers are to be tried on corruption charges, officials say.
The general prosecutor says the three former ministers will all face charges of squandering public funds.
It follows announcements of the detentions of several former officials, including former President Hosni Mubarak, in recent days.
Mr Mubarak stood down in February after an uprising against his 30-year rule.
The 78-year-old is under detention in a hospital awaiting questioning on corruption allegations.
His two sons are among a growing number of ministers and officials from his ruling era who are also facing investigation.
Assets frozen
Investigators had been looking into a deal involving a contract to manufacture licence plates for the interior ministry worth about $15m (£10m).
Mr Nazif is being held in Tora prison on Cairo's outskirts with the former Interior Minister Habib el-Adly, who is currently on trial on charges relating to the killing of protesters during Egypt's uprising.
Youssef Boutrous Ghali, the former finance minster, is understood to be overseas.
The announcement of further corruption charges will please Egypt's reformists, says the BBC's Yolande Knell in Cairo.
There had been a rise in tensions with the ruling military council in recent weeks following accusations it was protecting the former president and those close to him, adds our correspondent.
On Saturday, Egypt's supreme administrative court ordered that Mr Mubarak's former ruling party - the National Democratic Party - should be dissolved and all its assets seized and handed to the government.
The dissolution of his party has been a key demand of the protesters who drove him from power. Its offices were among the buildings targeted during the uprising.
The NDP had dominated the country's politics since it was set up by Mr Mubarak's predecessor, Anwar Sadat, in 1978.
Mr Mubarak is said to be in an "unstable condition" in hospital with heart problems. He has been ordered to be detained for 15 days.
He and his sons have been banned from leaving the country and their assets have been frozen.
In a pre-recorded audio message released on Sunday, Mr Mubarak said he would work to clear the names of himself and his sons.