Yemen: Three killed at Sanaa and Taiz protests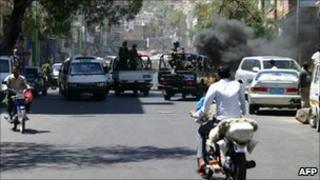 Yemeni security forces have opened fire on anti-government protesters in the capital, Sanaa, and the southern city of Taiz, witnesses and medics say.
At least two protesters were killed in Sanaa, while another died in Taiz. Dozens were wounded in the crackdown. Many suffered the effects of tear gas.
The UN Security Council is due to discuss the crisis later.
More than 120 people have been killed in two months of protests demanding President Ali Abdullah Saleh step down.
The Yemeni leader, who has been in power for more than three decades, has said he is willing to hand over power, but only to "safe hands".
International talks
The first clashes on Monday occurred in Taiz, Yemen's second largest city, when thousands of protesters took part in a march demanding the president's immediate resignation.
Security forces fired live rounds and tear gas "indiscriminately" at the crowd, witnesses said. The protesters set up barricades of burning tires.
The director of a field hospital, Dr Sadeq al-Shuja, told the Associated Press that at least one person was killed. Several others were wounded.
Later, tens of thousands took to the streets in Sanaa.
Riot police again opened fire on the protesters. A medic told the Reuters news agency that two people were killed and 100 wounded.
Protesters threw stones and set fire to one security vehicle in retaliation, witnesses said.
A Yemeni government delegation was due to meet foreign ministers from the Gulf Co-operation Council (GCC) in Abu Dhabi on Tuesday to discuss an initiative to end the crisis.
The meeting comes two days after an opposition delegation, led by former Foreign Minister Mohammed Basindwa, met Gulf Arab mediators in Saudi Arabia.
President Saleh, who initially offered not to seek re-election when his current term ended in 2013, subsequently said he would step down after holding elections.
He warned of possible civil war if he was forced out.
Mr Saleh's weak central government already has little control beyond the capital. In recent years, it has struggled to confront an armed rebellion in the north and a secessionist movement in the south.
Children killed
The UN Security Council is to discuss the unrest in Yemen for the first time on Tuesday, highlighting the growing worldwide concern.
"The fact that the council meets today on Yemen sends an important signal by the international community - the negotiations should not stall and further bloodshed has to be avoided," said Germany's permanent representative to the UN, Peter Wittig.
"It is high time that all parties, especially President Saleh, take up this initiative and strive for a peaceful transition," he added.
Earlier, the UN children's fund (Unicef) has said at least 26 children were killed in the violent protests in the last two months.
The majority died of wounds from live ammunition fired during clashes between security forces and demonstrators, Unicef spokesperson Marixie Mercado said.
"We have absolutely no indication that the children were targeted and we don't know who shot them." Ms Mercado added.
"Yemen was already the least developed country in the region and the unrest in the past months is exacting a terrible toll on children."
At least 83 more children have been wounded in the clashes, 36 of them by live ammunition, Unicef said.