Vittorio Arrigoni killing: Suspects die in Gaza siege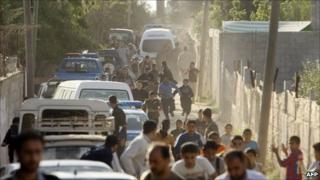 Two suspects in the killing of Italian citizen Vittorio Arrigoni in Gaza have died during a siege by Hamas police, officials say.
A third suspect was injured and three of the suspects' associates were captured during the operation in the Nuseirat refugee camp, in central Gaza.
One of the two dead men may have committed suicide.
Mr Arrigoni, 36, was abducted last Thursday by Salafists and then hanged.
Hamas, the Palestinian militant group that governs Gaza, condemned the killing of the pro-Palestinian activist in Gaza City as an attack on "the humanity... of the Palestinian people" and two arrests were made earlier.
Salafists are radical Islamists who consider Hamas, itself an Islamist organisation, to be too moderate.
Reporters turned back
Hamas sealed off parts of the Gaza Strip before Tuesday's operation during which heavy gunfire and at least one explosion were heard.
Ihab Ghussein, Hamas interior ministry spokesman, told the Associated Press news agency that one militant had thrown grenades at his comrades before shooting himself.
Five Hamas policemen were injured as well as girl who was caught in the crossfire, he added.
Mr Arrigoni's killing was widely condemned across Gaza, the BBC's Jon Donnison reports from Ramallah.
This is the first kidnapping of a foreigner since Hamas came to power in 2007. It is being seen as a challenge to the Hamas government's authority, our Gaza correspondent says.
Hundreds of Palestinians attended a funeral procession on Monday as Mr Arrigoni's body was taken out of Gaza on its way back to Italy.