Mid-East press assesses Osama Bin Laden's end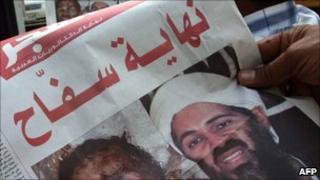 Many papers in the Middle East say the killing of Osama Bin Laden will be good for US President Barack Obama's political fortunes, but also warn that there will be more violence if the underlying causes of radicalism are not addressed.
Bin Laden, though dead, could become an "icon" for Islamic anger, says one commentator. But others feel that with the democratising events of the ''Arab Spring'', organizations such as al-Qaeda are already a thing of the past.
Tariq Abd-al-Hamid in pan-Arab Al-Sharq al-Awsat
Finally the leader of the terrorist al-Qaeda group faced his inevitable destiny. What an exciting end. He was killed by Americans in Pakistan and not in Afghanistan. The man they nicknamed "the leader of the mujahideen" was killed in his spacious house and not on the battlefield or carrying out jihad. He died with his wife and not with the youth he misled.
Ghassan Shirbil in pan-Arab Al-Hayat
George Bush craved a moment when he could declare that the USA had killed the man who destroyed the Twin Towers... Emperors are like individuals and need revenge to clean their wounds but he was not lucky and time was not on his side. That was Barack Obama's fortune.
Ilyas Harfush in pan-Arab Al-Hayat
Barack Obama has… guaranteed his re-election even before the start of the 2012 presidential campaign. His war against al-Qaeda went directly to the top and finally put an end to the dirty tricks used by his opponents, the Republicans, who were comparing the similarity of names between "Osama" and "Obama" to suggest that the current US president would be less assertive in pursuing terrorism than his predecessor.
Rakan al-Majali in Jordanian Al-Dustur
Obama's popularity increased with the news of getting rid of Bin Laden, which may provide him with the basis for his re-election in a year-and-a-half. This is the pillar and essence of the outcome of this incident and anything else is a mere detail.
Editorial in Palestinian Al-Quds
This occasion should remind the West in general and the United States in particular - as well as all those fighting what they call international terrorism - that occupation, oppression, stealing others' rights and the absence of justice are all focal points for fanaticism. They should be reminded that anyone fighting this fanaticism should fight the reasons behind it as well as those who are trying to exploit it.
Mashari al-Dhayidi in pan-Arab Al-Sharq al-Awsat
Osama has evolved since 11 September 2011 into the icon of Islamic anger in the same way as the Argentinean communist Che Guevara became the icon for leftist Latin anger against the West.
Adil Abd-al-Rahman in Palestinian Al-Hayat al-Jadidah
It would have been better for the US military to arrest the man asleep, but the CIA did not want to arrest him, fearing that he would confess openly and expose the US administration that had exploited him in an ugly way.
Editorial in Egyptian Al-Jumhuriyah
Following Bin Laden's crimes, the US manufactured an excuse to wage an unholy war on Muslim countries… Now, after US President Barack Obama's announcement of Osama Bin Laden's killing, will the end of the war against terror be declared or does the US still have outstanding goals?
Nasuh al-Majali in Jordan's Al-Ra'y
The killing of Bin Laden by his enemies will definitely deal a fierce moral blow to the al-Qaeda movement, whose symbol he was, but it will also give al-Qaeda an excuse for more violence and for proving its presence… The thing that feeds this organisation and provides it with supporters and followers in the Islamic world are the imperialistic policies, invasion and occupation campaigns by the West and Israel against Arab peoples.
Mahmud al-Sukany in Libyan Al-Shames
Bin Laden's end - if this information is true - does not mean the end of al-Qaeda as an active and influential organisation on the international scene; rather, it may be an inducement for his followers to plot more terrorist operations.
Commentary in Iranian Siyasat-e-Ruz
The death of Bin Laden, though announced as a step towards eliminating terrorism, is another way for America to realize its objectives in the Middle East and North Africa.
Editorial in Iranian Al-Vefagh
The USA's presence in the region is as undesirable after Bin Laden's killing as it was before his death.
Muhammad Abd-al-Latif Al al-Shaykh in Saudi Arabian Al-Jazirah
His death is without doubt a great victory not only for the Western world but also for all human beings who hate killing, blood, destruction and bombing.
Hasan Khadr in Palestinian Al-Ayyam
It was a paradox that Bin Laden died at a time when millions of Arabs are taking to the streets to ask for freedoms that have no place in his personal lexicon or religious ideology... His death ended a very dark decade.
Editorial in Saudi Arabian Al-Watan
Osama Bin Laden's killing in this way could have had a negative effect, had it taken place at the end of last year. But, today it will pass just like that, and if it has an effect, it will be very limited because the Middle East of 2011 is not like before. The Middle East today has a new vision… that is far away from the influence of al-Qaeda or any other jihadist organisation.
BBC Monitoring selects and translates news from radio, television, press, news agencies and the internet from 150 countries in more than 70 languages. It is based in Caversham, UK, and has several bureaux abroad.