Syria: Army 'surrounds Baniyas' days after Deraa siege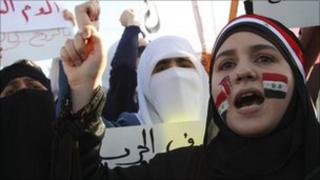 Syrian security forces have surrounded the coastal city of Baniyas, activists say, days after tanks and troops took control of Deraa in the south.
Soldiers have blocked the northern and southern entrances to the city, and the government has armed its supporters in nearby villages, the activists say.
The number of arrests around the country has risen to 1,000, they add.
The International Red Cross has appealed for access to the injured and arrested, especially in Deraa.
Rights groups say 560 people have been killed across the country in protests against the repressive rule of President Bashar al-Assad.
The government's position is still that the demonstrators are militant criminals and not - as evidence from the ground suggests - ordinary civilians calling for political reform.
The interior ministry set a deadline of 15 May for protestors who had committed "unlawful acts" to give themselves up.
'Armed thugs'
The government is keeping up efforts to try and bring an end to five weeks of rebellion.
"The Syrian authorities sent military reinforcements and thugs to the areas in the city centre [including the main market]," a young activist from Baniyas who is helping to organise the demonstrations has told the BBC.
"The city is facing militias from the east and military forces from the south and north sides," he added.
The latest operation comes after Mr Assad sent tanks and soldiers into the southern city of Deraa, where the uprising broke out in mid-March.
On Tuesday, a resident who fled to Damascus told the BBC that the hospitals in Deraa have become like military barracks.
"The army is occupying the hospital. They are arresting everyone there - the injured, the wounded," he said.
"The only hospitals people can use now are on the outskirts or the smaller hospitals in neighbouring villages."
Mass arrests
Reports from Deraa say hundreds of men between the ages of 16 and 40 were taken away by security forces in house-to-house raids on Sunday.
In recent weeks, hundreds of protesters are thought to have been killed or injured in Deraa, where footage appears to show security forces using live ammunition against demonstrators.
Other witnesses said the overall situation had eased somewhat.
Although sporadic gunfire was still heard, residents were being allowed out of their homes at certain times of the day, and power had been restored to some neighbourhoods, they said.
Foreign journalists are not being allowed into Syria, so it is difficult to get an accurate picture of the situation in the country.
The protests, which began on 15 March, pose the most serious challenge to four decades of rule by the Assad family in one of the Arab world's most repressive and tightly-controlled countries.
Last week hundreds of members of Mr Assad's ruling Baath Party resigned in protest at the crackdown.