Tehran police clash with anti-Saudi football fans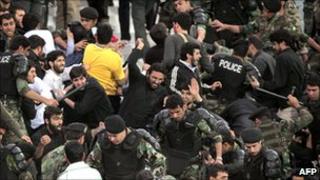 Iranian police have clashed with football fans chanting anti-Saudi slogans during an Asia Champions League match in Tehran.
The fans were protesting about the deployment of Saudi troops to help quell Shia-led protests in Bahrain.
Reports say two protesters were seriously injured and several were detained after police forcibly removed them during the second half.
The match saw Tehran's Piroozi beat al-Ittihad from Saudi Arabia 3-2.
The deployment of Saudi troops to defend Bahrain's Sunni rulers has increased tension between the region's main Shia power, Iran, and Saudi Arabia, traditionally seen as the region's Sunni powerhouse.