Bahrain unrest: Protester jailed for five years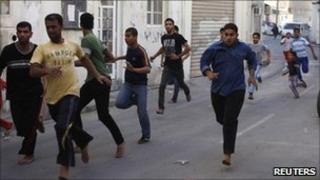 A Bahraini military court has sentenced a man to at least five years in jail for the attempted murder of policemen during recent anti-government protests.
Abdulla Mohammed Habib was also given two years in detention for damaging public property, state media say.
The same court last week sentenced four men to death for their involvement in the killing of two policemen.
Earlier this week, Bahrain said 47 medics would be charged with acting against the state during the unrest.
At least 30 people have been killed in the Gulf kingdom since mid-February. Among them were four policemen, and four opposition supporters who died in custody. More than 400 other people are facing trial.
The authorities in Manama have come under strong criticism from human rights groups for their crackdown on the Shia-led protests, who have been demanding an end to the Sunni monarchy.
The Bahraini authorities deny any human rights abuses.
They accuse Iran of being behind the unrest - a charge denied by Tehran.