Egypt revolution groups plan secular election strategy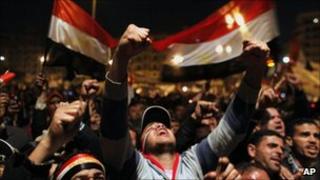 More than 2,000 political activists have met in Egypt to try to create a unified movement to press for deeper democratic reforms.
It was the largest political gathering since the resignation of President Hosni Mubarak in February.
The activists hope to create a new secular political movement for an election scheduled for September.
The organisers of this conference wanted it to represent all the groups that took part in the January uprising.
Among the more than 2,000 attendees were academics, business figures, workers and farmers, and a handful of Muslim clerics.
'Dictatorship of the minority'
Their goal was to set a clear agenda for the democratic transformation of Egypt - activists complained that they were being excluded by the military council that now rules the country.
But with such a multitude of opinions, agreeing a single agenda was difficult, although they said they would try to present a single slate of candidates to contest September's general election.
Secular Egyptians fear the poll will be dominated by the Islamist Muslim Brotherhood.
Mamdouh Hamzah, an engineer who initiated and largely funded the conference, said: "We want the next parliament to represent all facets of Egyptian society, not one facet.
"Because if one group has a majority of the parliament we are facing the dictatorship of a minority."
The mostly young activists acknowledge they lack the experience of the Muslim Brotherhood, and that the election is taking place too soon for them.
The activists hope the 60-member National Council they plan to establish next week can put pressure on the military to take on board their concerns, in particular over the drafting of a new constitution, a task being given to the next parliament.