Egyptian press fears communal chaos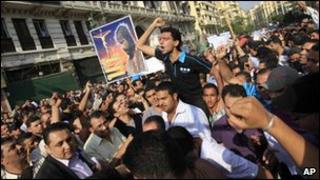 Egyptian newspapers have published angry comment on the Muslim-Christians clashes in recent days in Egypt. More than 180 people were wounded in clashes on Saturday after conservative Muslims attacked a Coptic church in the Imbaba area.
Both official and independent newspapers fear that remnants of the ousted Mubarak government, religious extremists or unspecified foreign forces are trying to undermine moves to democracy by stoking communal violence.
Several papers accuse the authorities of leniency towards "thugs", and one demanded the death sentence for desecration of places of worship.
Jalal Duwidar in the official daily Al-Akhbar
"Egypt is in serious danger… What Egypt is currently witnessing is the normal result of chaos, slackness, carelessness and softness towards thugs and extremists... It is no longer a secret that harming national unity and driving a wedge between the sects of the nation is… the strategic goal of external enemies… They do not want to see Egypt standing on its feet once again as a strong and dignified country which restores its civilization and which is capable of resisting those who have ambitions and want to control and dominate our Arab and Islamic nation."
Ahmad Rajab in Al-Akhbar
"The situation requires drafting an urgent law stipulating the execution of whoever damages, sabotages or burns the place of worship of any heavenly religion."
Official daily Al-Ahram
"What is going on will take Egypt to the abyss of chaos and turn it into another Somalia or a new Afghanistan... those who tamper with Egypt's safety and security... are committing high treason against religion and the revolution."
Fathi Mahmud in the official Al-Ahram
"We will not be able to control aspects of sectarian sedition, or expect the return of tourism to its normal rates, or attract any new foreign investment to help us face the economic crisis unless security and stability return to the Egyptian street."
Official daily Al-Jumhuriyah
"Throughout history, Egypt has always resisted all conspiracies and conflicts which targeted its national unity… But here are the forces opposed to the glorious 25 January Revolution trying once again, but they will never succeed due to the awareness of the Egyptian people and the strength of their unity."
Amr Hamzawi in the independent daily Al-Shuruq al-Jadid
"There should be a quick and firm return of the state and its non-repressive security tools to stop the bloodshed and prevent violence. There should also be a quick return of the police apparatus and it should be enabled both politically and socially to carry out its role."
Muhammad Ismat in Al-Shuruq al-Jadid
"No doubt, there is a strong link between the recent acts of violence… and the secret meetings and contacts held by former leaders of the Mubarak regime and figures of the dissolved National Democratic Party in pursuit of any means to ensure their return to political life."
Muhammad Azzuz in the independent daily Al-Dustur
"The incidents in Imbaba will recur as long as the pillars of the past regime are being pampered in prison, and as long as they have mobile phones to contact the outside world."
Lamis al-Hadidi in the independent daily Al-Misri al-Yawm
"The real problem is the conflict between the civil state and the religious state; the conflict between the moderate Egyptian who believes that religion is for God and the homeland is for all, and the extremist… This is the real conflict and this is the battle; so will we lose it?"
Majdi al-Jallad in the independent daily Al-Misri al-Yawm
"Do not deceive yourselves; what has been happening is neither counter-revolution nor a conspiracy by the remnants of the former regime. It is the work of our own hands. It is the natural embryo of extremism that lives within us... Those who ignited Imbaba are cowards, just like bats... They go out in the dark to burn a nation that has lived in tolerance for centuries... we will burn ourselves with extremism and fanaticism".
Muhammad Mustafa Shirdi in the opposition daily Al-Wafd
"Egypt should not be afraid of facing those who trigger sedition, and by those I mean the extremists among both Muslims and Christians... What is very clear now is that the government is 'soft' on these incidents and thuggery, as if we were destined to be ruled either by iron and fire or by soft, silky hands."
BBC Monitoring selects and translates news from radio, television, press, news agencies and the internet from 150 countries in more than 70 languages. It is based in Caversham, UK, and has several bureaux abroad.