Yemeni security forces 'kill five at protests'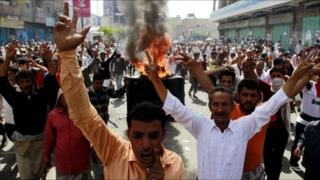 Yemeni security forces have opened fire on anti-government protesters in four cities, killing at least five people and wounding scores, medics say.
At least one person died in the capital, Sanaa, when troops shot at a crowd of tens of thousands that was marching towards the cabinet building.
Two protesters were earlier killed in the city of Taiz, while one was shot dead in Hudaida and another in Damar.
Meanwhile, reports suggest the country is facing a growing fuel crisis.
For weeks, tribesmen have been blockading oil refineries in Maarib province, in support of the demonstrations.
It has made petrol scarce and is costing the government about $3m a day in blocked exports, according to the Reuters news agency.
'Opening fire randomly'
More than 140 people have been killed by security forces since protesters began demanding the resignation of President Ali Abdullah Saleh in January.
Many Yemenis have lost patience with the stalled negotiations to end Mr Saleh's 33-year rule, and they took to the streets across the country once more on Wednesday to demand he step down immediately.
Tens of thousands marched from Sanaa University - a focal point of the unrest - towards the cabinet building in the centre of the capital. When they got to within 200m, security personnel and plainclothes gunmen opened fire, witnesses said.
At least one person died and at least 40 were wounded, two critically, medics said. Police reportedly stopped ambulances from approaching the area.
"This is a massacre, they are opening fire randomly," Mohammed al-Qibli, a leader of a youth protest movement told al-Jazeera.
"The scene is terrifying in every sense of the word."
Another protester said there was a stampede as snipers opened fire.
The interior ministry said the protesters had attempted to break through security barriers and storm the government building. It also accused opposition gunmen of opening fire on the crowd and killing one person.
In Taiz, security forces killed two people and wounded at least four as protesters set fire to tyres and continued to blockade government buildings, bringing Yemen's second largest city and main industrial centre to a halt.
"Stores are closed and the streets are completely empty of pedestrians, only protesters are around in the areas they are confronting [security forces]," resident Wajdi Abdullah told Reuters.
At least six protesters have been killed in Taiz since Sunday.
There was also a demonstration on Wednesday in the Red Sea port city of Hudaida. One protester was killed when security forces opened fire when people tried to force their way into a government building, witnesses said.
And in Damar, 100km (60 miles) south of the capital, one person was killed by police during a demonstration, medics said.
President Saleh, who has been in power since 1978, has refused to step down despite weeks of protests.
On Monday, the Gulf Co-operation Council (GCC) urged all parties to sign up to a deal under which Mr Saleh would hand over power to his deputy in return for immunity from prosecution.
The ruling General People's Congress party initially agreed, but Mr Saleh failed to sign the agreement when he was due to early this month.