Yemen: 'Two die and dozens injured' in new protests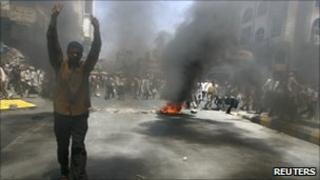 At least two anti-government protesters have been killed and dozens wounded by Yemeni security forces in the cities of Taiz and al-Bayda, reports say.
Security forces in al-Bayda opened fire from the roof of a building owned by the ruling party, killing two, witnesses said.
Scores of protesters had gathered to make new demands for President Ali Abdullah Saleh's departure.
He has refused to step down despite weeks of protests.
Police fired live ammunition and rubber bullets to disperse demonstrators in the southern city of Taiz, injuring 40 people, one doctor, Sadeq al-Shujah, told the Associated Press news agency.
Five other protesters were hurt in al-Bayda, activist Mohammed al-Amari said.
The Gulf Cooperation Council (GCC) is trying to revive its plan to resolve Yemen's unrest.
Under the mediation deal, brokered by Gulf Arab states, a presidential election would be held 60 days after Mr Saleh's departure.
"The Gulf initiative is the best solution and an exit out of the country's dramatic situation to stop the bloodshed and to spare the country further deterioration of the security and political division," GCC secretary-general Abdul Latif al-Zayani said in a statement, according to AP.
More than 130 people are reported to have been killed by supporters of Mr Saleh since the unrest began in January.