Press: Mixed view on Syrian unrest in region's press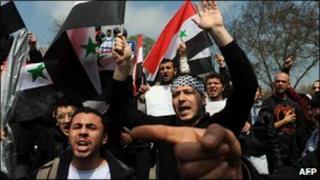 The ongoing protests in Syria, and the government's violent response, continue to stir debate and comment around the region.
Syrian state media remain robust in their defence of the government's actions against "sedition" and foreign "plots". A number of commentators in the wider Arab world predict that the Syrian regime will weather the storm, while others say that despite the harsh response, democratic change is inevitable.
In Iran there is continuing support for the Damascus government, while Israeli papers take a cautious line on developments. Meanwhile, the Turkish press remains much preoccupied with the foreign policy "headache" faced by Ankara in its dealings with Damascus.
Syrian ruling party Al-Baath newspaper website
The field successes, and the gradual and decisive progress in the elimination of sedition, did not please those who stand behind the plot, as Washington has rushed to cover up its disappointment, by launching statements about alleged Syrian weapons to Hezbollah.
Ahmad Hamadah in Syria's state Al-Thawrah
The US is trying to exploit current events in Syria to further its interests and those of its ally Israel. First, it threatens to impose sanctions, then it seeks to pressurise Syria into severing ties with resistance forces in the region and finally, it urges the EU to adopt punitive stances against Syria.
Hadi Mohammadi in Iran's Javan
There should now be greater effort to realise the reforms process, but after popular uprisings in Tunisia, Egypt etc. the arrogant powers, Arab reactionaries and Zionist regime are trying to damage Syria's national and domestic stability and this trend is completely different from other reform movements.
Tariq al-Hamid in pan-Arab Al-Sharq al-Awsat
The Syrian government … will soon make short work of European or US sanctions. All that is required is for it to engineer a crisis in Lebanon or elsewhere, such as the Palestinian or Iraqi issue. Then, when the West comes to negotiate with Damascus, it will have to prove its good intentions, which will mean lifting those sanctions. It is that easy.
Muhammad Abu-Ruman in Jordan's Al-Ghad
Despite the level of pressure and people's courage, the revolution has not yet reached the level of that of Tunisia and Egypt. So far, the actual balance of power remains in the hands of the ruling system.
Nasuh al-Majali in Jordan's Al-Ra'y
It has been proven that those who used violence against required change were only defending their privileges, interests and existence. It may not be long before they realise that the old iron fist that they used to survive for some time will not guarantee their stay [in power] for long. Democratic change is inevitably coming, and it is the enemies of freedom who usually serve its victory and the victory of the struggling peoples for the sake of rights and legitimate freedoms.
Abd-al-Rahman al-Rashid in pan-Arab daily Al-Sharq al-Awsat
Damascus must be shocked by what it hears and sees from its former regional allies... The three Syrian disappointments; Turkey, Qatar and Hamas, reflect the realism that exists in the management of Arab politics. No state wants to be seen alongside a regime that is in conflict with its own people, unless it is going through the same thing.
Editorial in Israel's English-language Jerusalem Post
The imperative here for Israel is to refrain from opining on any 'desired' result of the Syrian upheaval. Certainly, we share the fervent desire to see an end to the killing of innocent people who are seeking the freedoms we insist upon. But Israel would do well to remember that, as with the uprisings in Egypt and elsewhere, this Arab push for freedom is not actually about us. The temptation to babble is often overwhelming for our leaders. Sometimes there are circumstances where the less said, the better.
Deniz Ulke Aribogan in Turkey's Aksam
It seems that the incidents that have been going on in Syria will very much cause a headache for Turkey... Even now the number of the dead people is around 2,000 and it is possible that this will increase. Turkey, however, is between a rock and a hard place. On the one hand, there are civilians who are losing their lives, and on the other hand, there are the bilateral relations which have been built up with care for some time.
Kerim Balci in Turkey's Zaman
There are those who are angry about the fact that Turkey does not say 'go away' to Assad. Yes, but is there any mature opposition that will replace the one who 'goes away'? Turkey is not extending the life of the [Syrian] regime by asking Assad to introduce reforms. It tries to give time to the opposition to mature and prepare a government that will replace him.
Editorial in pan-Arab Al-Quds Al-Arabi
Within less than two months, Syrian-Turkish relations have moved from a strategic alliance to a near complete break-up. The reason for this is the clear contradiction of the views of the leadership of both countries regarding the popular uprising currently going on in various Syrian cities to demand democratic and political reforms in particular... What is certain is that the Syrian leadership is living in a state of anxiety and confusion as a result of internal and external pressure mounting against it.
BBC Monitoringselects and translates news from radio, television, press, news agencies and the internet from 150 countries in more than 70 languages. It is based in Caversham, UK, and has several bureaux abroad.