Cyprus court jails men for stealing Papadopoulos' body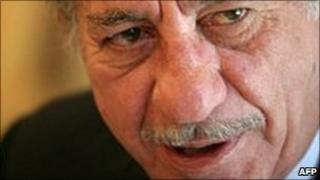 A Cyprus court has found three men guilty of stealing the body of the former President Tassos Papadopoulos.
Two Greek Cypriot brothers and an Indian national were found guilty of taking the body from the grave in 2009.
They were given prison sentences of up to 20 months for the crimes of exhuming a corpse and trespass.
One of the brothers hoped to use the body to negotiate his release from prison, where he is serving life sentences for murder.
A few months after the theft the police found the body buried at a cemetery in suburban Nicosia three miles (5km) away from where it was originally buried.
They discovered the corpse after the Indian national, Sabrjit Singh, contacted the former president's family asking for money and saying he felt guilty.
Singh received an 18-month sentence while the two brothers - Antonis Prokopiou Kitas and Mamas Kitas - were given a sentence of 20 months each.
Prokopiou Kitas is believed to have masterminded and organised the robbery via his mobile phone from his prison cell at Nicosia Central Prison.
Papadopoulos died of lung cancer at the age of 74 in December 2008.
His body was taken from its coffin one day before a memorial service was due to be held to mark the first anniversary of his death from cancer.